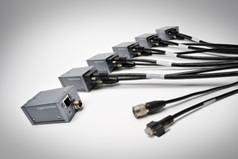 With the release of Sony's XCG-H280CR we here at Phase 1 Technology would like to take a few minutes to familiarize you with this new high-quality, GigE, monochrome camera. Here are three things you should know:
1. It's a dynamic duo.

Giving you both High-Def capabilities and high frame rate features, this camera gives you quite a powerful combination. It has a 1920 x 1808 resolution and it allows for frame rates up to 32 FPS.
2. It handles you being "hot and cold."
Or at least your application. Talk about a temperature range! From -10 degrees Celsius to 50 degrees Celsius, or 14 degrees to 120 degrees for us used to dealing with Fahrenheit, the camera's range enables it to have some important applications in harsh environments. One example is traffic control. Being able to function in both the heat and cold expands this camera's versatility and separates it from the rest.

3. It has versatile applications.

By having features like Bulk Trigger mode, which allows the camera to pick up 16 images consecutively, they've identified uses within Intelligent Transportation System (ITS) applications. The camera's High-Def and high frame rate combination also makes it a great fit for high end surveillance applications giving those using it a clearer image.

Do you have any questions? Wondering if this camera would work for your application? Please feel free to contact us by e-mail at info@phase1tech.com at or via telephone: (888) 732-9880