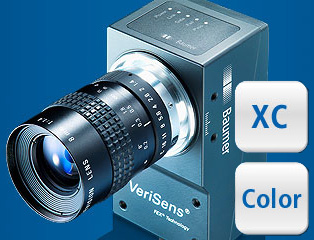 The Baumer VeriSens XC Series of monochrome and digital monochrome smart cameras excels in high-speed, complex inspection, verification and sorting applications that require a high degree of accuracy and multiple, simultaneous feature checks. In addition to the highly adaptable modular tube system that facilitates a wide range of industrial applications, the XC Series cameras are also equipped with a powerful CCD 1/4-type, 1/3-type, or 1/1.8-type CCD image sensor that can achieve resolutions up to 1.9 megapixels for super-high-quality image capture.
Featuring an intuitive and unified user interface that was created using customer feedback, the XC series cameras are equipped with everything needed for fast, easy deployment, including C-mount connectors for lenses, fully integrated flash controllers, and Color FEX® color assistant for external illumination systems.

Other features include:
for 360-degree position recognition
Easy, one-time PC configuration via 10-Base-T or 100-Base-TX Ethernet
Rugged IP-67 metal housing that can handle virtually any industrial environment
Five digital I/Os
The next article in this series will take a closer look at the Baumer VeriSens XF Series of smart cameras for machine vision.

Check out posts on the CS series, ID series, as well as an overview of the Baumer VeriSens series of smart cameras.