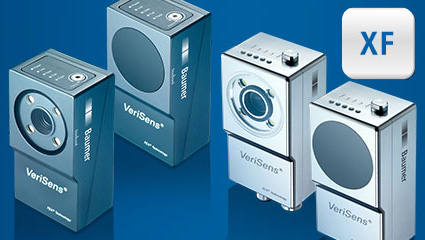 The Baumer VeriSens XF Series of smart cameras are ideal for systems integrators and end-users who require numerous feature checks and other value-added features without the cost typically associated with complex vision systems.
Equipped with a powerful 1/3-type CMOS image sensor that achieves resolution of 742 x 480 pixels, an integrated 10 or 16 mm lens, and the ability to check up to 32 features simultaneously, the Baumer VeriSens XF Series of machine vision smart cameras is ideal for complex inspection tasks. The XF-105/205 models meet stringent hygiene requirements for pharmaceutical and food and beverage applications with a wash-down design in high quality stainless steel and protection class IP 69K.

With a user-friendly interface and intuitive, one-time PC parameterization via Ethernet, the Baumer XF Series smart cameras pair the operational ease of a sensor with the performance of an all-inclusive vision system.
Other XF Series features include:
FEXLoc 360-degree position recognition
Five digital I/Os
Intuitive PC configuration via 10-Base-T or 100-Base-TX Ethernet
Integrated LED or white-light illumination
Please be sure to read all the posts in this series to learn about the powerful VeriSens family of Baumer smart cameras for industrial and machine visions applications.