Teledyne DALSA's Genie Nano GigE camera series offers low-cost models with exceptional frame rate. Now, the company is building on the series's strengths with an exciting offering of nine new Genie Nano models. Thanks to Nano's implementation of cutting-edge Python CMOS image sensors from ON Semiconductor, you get industry-leading frame rates in a small package.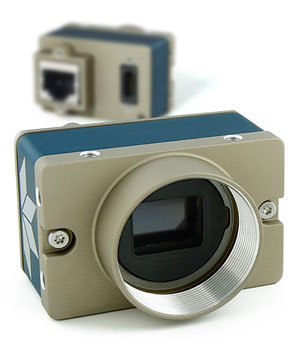 "These newest Genie Nano models are built for speed," said Manny Romero, Senior Product Manager for Teledyne DALSA. "TurboDrive makes them the fastest GigE cameras available. The series overall is designed to meet the needs of a growing number of vision applications. We're committed to providing fast, high value cameras that offer customers flexibility, performance and low cost."
Summary of Key features:
TurboDrive for fast frame rates and full image quality
Trigger-to-Image-Reliability for easy system control and debugging
Small footprint for tight spaces - 44mm x 29mm x 21mm
Wide temperature range (-20 to 60°C) housing for imaging in harsh environments
2 inputs/2 opto-coupled outputs for easy integration and deployment
Light weight – only 46 grams
Three different resolutions: 640x840, 800x600, and 1280x1024.
Choose from monochrome, color, and near-infrared (NIR) models.
Fully optimized for today's high-speed machine vision applications.
The DALSA Genie Nano is surprisingly versatile and robust for its size. It benefits from Teledyne DALSA's TurboDrive technology, allowing it to "break the speed limit" on gigabit Ethernet, and offers Trigger-to-Image Reliability for debugging purposes. Many of these features will be familiar to followers of the Teledyne DALSA brand.

You might not expect a 46-gram piece of hardware to stand up to harsh environments, but the DALSA Genie Nano can operate under tough conditions anywhere from -20°C to 60°C. Its full dimensions are just 44mm x 29mm x 21mm, so the line will work well even in the tightest spaces.

DALSA's nine new Genie Nano models complement a growing family of fast, cost-effective area scan cameras built around a fully optimized camera platform. Backed by a 3-year manufacturer warranty, the Nano series is an attractive option for a wide range of applications including intelligent traffic systems (ITS), entertainment, medical, food and beverage inspection, and electronics and printed circuit board (PCB) inspection, among many others.