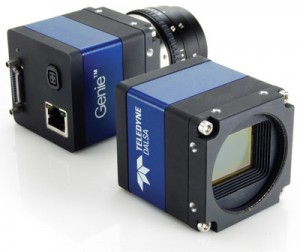 Dalsa's series of Genie cameras have been around for many years and has impacted the marketplace from a technical and quality perspective. Recently, Dalsa has redesigned this series of Genie cameras and created the Dalsa's Genie TS Series. This second generation of cameras have been received with rave reviews since their debut.
These cameras are much more compact, faster, and has much higher resolution along with a long list of added features to suit many different marketplaces. These rave reviews have resulted in nominations for these cameras within several different markets.

Being deemed finalists in both the Test & Measurement World's: 2012 Best in Test Awards, as well as Control Engineering's: 2012 Engineer's Choice Awards, Dalsa's Genie TS Series is proving itself to be quite the contender.

To be qualified for the 2012 Best in Test Awards, the cameras had to be released before the decided upon deadline and have made respectable advancements within the test, measurement, and inspection fields.

The 2012 Engineer's Choice on the other hand was voted on by subscribers of Control Engineering. The subscribers were asked to select products that they felt properly served their respected industries. To make the cut, the products they chose had to be considered an advancement in technology and in some way, shape, or form, affect their market.

Impressive stuff, right? If you'd like to vote just click on the links above! (note: you must currently be, or become a subscriber to Control Engineering).
If you are interested in buying a product from Dalsa's Genie TS Series, or would just like to learn more about them, please feel free to contact us by e-mail at info@phase1tech.com or via telephone: (888) 732-9880