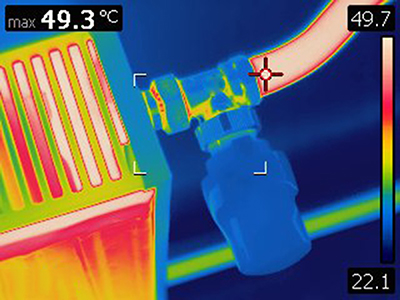 IR cameras, also known as thermal cameras, create images using infrared radiation. Thermal camera applications vary from electric utilities to defense to firefighting, noticing things our naked eyes can't see. They can keep us safe in dangerous moments and help us detect problems before they become more significant.
Gas Leak Detection
One excellent example using IR cameras to provide safety comes in gas leak detection. Certain gases leaking from damaged containers or pipes are a serious hazard that must be addressed with expediency.
Unlike more readily visible hazards like fires or busted water pipes, gases often aren't easily seen by human eyes. However, inspectors can leverage IR cameras like the FLIR A6604 to find the exact source of gas leaks quickly and easily. With this versatile optical gas imaging (OGI) camera, maintenance workers and inspectors can continuously scan installations in remote areas or zones that aren't easily accessed.
Quality Control
Another popular application for using thermal cameras, manufacturers rely on accurate quality control to confirm products and packaging meet standards of production before being shipped.
With FLIR's A5 series, quality control efforts are more accurate and efficient thanks to these cameras' exceptional capability. For starters, Compact A series models are the only thermal imaging temperature sensors on the market that send temperature linear output through GenICam™ compliant software. Using this protocol, these sensors enable you to incorporate third-party software with the camera to perform in your application more efficiently.
Electronics Testing
Evaluating electronic components' construction and function can be particularly tedious work for human hands, and even then there's no guarantee you'll be effective. That's where IR cameras come in.
You can find a variety of IR cameras suited for testing electronics, but FLIR's A615 model is a great choice for these kinds of applications. Featuring the same GenICam™ compliant software as the A5 series, the A615 easily integrates with almost any PC system at an affordable price. It also features GigE connection protocol, a compact design, and 640 x 480-pixel resolution.
You can also find IR cameras being used in public security, marine, and scientific applications. FLIR provides cameras that specialize in each application, making your job easier and keeping the world safe. Most appealing of all? They're affordable, too.
When it comes to efficient thermal cameras for industrial applications, FLIR offers some of the best on the market. View Phase 1 Technology's selection of available FLIR cameras, or contact us today if you have questions about which camera is right for your needs.