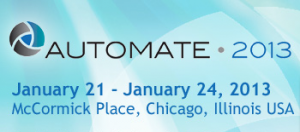 It's almost here! Automate 2013, the biggest event in the automation industry is just weeks away. Brought to you by the Association for Advancing Automation (A3) and their trade associations, this biannual show gives leaders in the industry the chance to show off the latest and greatest in automation technology.
Whether you're one of the 100-plus exhibitors showing your products, or one of the thousands of people attending, you get a first hand look at demonstrations of what you can expect from the future of the industry. It provides all in attendance with a unique opportunity to look at solutions for their own applications, or see ways in which various technologies are used in other applications.

Aside from all of that there are also opportunities to learn! There's a conference that accompanies the show and for the first time A3 is offering you huddles where you can talk to experts in the industry about relevant products and topics. In fact, Phase 1 Technology President, and current A3 board member, Rusty Ponce de Leon will be hosting his very own huddle! He'll be discussing the "Automated Imaging Association (AIA) Certified System Integrator Program" and how it can benefit automation users. So, if you're joining us at the show be sure to check it out. If you're not, no worries! We'll be there walking the show and gathering as much information as possible to report back to you at the show's close.

Automate 2013 is being held this year in Chicago, Illinois from January 21-24 and you can register and find out more about the event here.