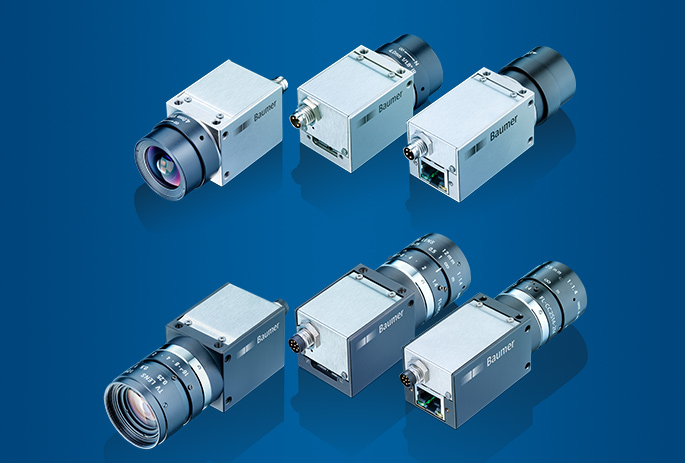 Baumer cameras feature a range of innovative vision technology for high-performance in industrial vision applications. Whether you need extremely high frame rates, superb image quality or easy integration, or all three, there's a Baumer camera to fit your application.
Resolutions range from VGA to 8 Megapixels, leveraging CCD and CMOS sensors for color and monochrome imaging compatible with all standard interfaces. The broad selection of Baumer cameras may make it difficult to choose which one is best for you, however, as many Baumer cameras can work in several different applications.
Selecting a Baumer Camera for Your Application
While all Baumer cameras have ideal applications, the cameras listed below are some of the most popular choices in the industrial sector for a variety of reasons.
Baumer CX Series Camera
The Baumer CX Series camera uses industry-leading Sony Pregius and ON Semiconductor Python CMOS sensor technology to achieve 5 Megapixel resolution for superior image quality. At a frame rate of 403 frames per second, this Baumer camera is extremely fast, too. Baumer CX Series cameras feature compact, flexible design purposefully built to fit into narrow spaces, and includes an all-sided M3 mount for simple integration.
Baumer Verisens Vision Sensor Camera
The Baumer Verisens vision sensor camera is a highly compact imaging system in the shape of an imaging sensor. This camera is intuitively configured on a PC, enabling quick and easy integration for packaging, quality inspection and other machine vision applications. Baumer Verisens vision sensor cameras are offered at the entry level CS series, as well as the fully featured XF and XC series cameras.
Baumer SX Series Camera
The Baumer SX Series camera features a state of the art Kodak sensor, reaching 8 Megapixel resolution. This camera incorporates Dual GigE and CameraLink interfaces in a dynamic tap balancing process that reduces temperature effects and further improves image quality. Baumer SX series cameras are widely deployed in rugged, high-performance applications such as intelligent traffic systems, motion analysis, microscopy, film scanning, and solar wafer inspection, among many other machine vision applications.
While these are far from the full offering of Baumer cameras, the three series listed above are some of the most popular for their imaging speed, fast frame rates and flexibility. Baumer cameras consistently meet some of the toughest industrial imaging challenges.
To view a wider selection, browse Phase 1 Technology's Baumer Camera offerings.