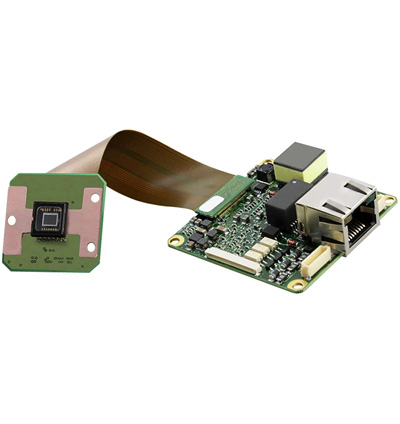 Baumer MXG series cameras are board-level cameras built for high-speed image capture in a highly flexible design for use in a wide range of industries. These embeddable cameras leverage popular, powerful interface protocols such as GigE, USB3, and GenICam to process and transfer data at high speeds.
Baumer MXG cameras leverage CCD and CMOS image sensors, with frames rates ranging between 29 fps and 160 fps in both monochrome and color. The board-level design allows these cameras to be integrated into many other systems for embedded vision capabilities.
Baumer MXG Series Cameras Applications
Baumer MXG series cameras are compact and lightweight. They leverage Power over Ethernet (PoE), further simplifying their design for easy integration into a wide range of systems for enhanced imaging capabilities.
Common applications of the Baumer MXG series cameras include intelligent traffic systems, industrial image processing, packaging and print inspection, robotic systems, sensitive medical technologies, renewable energy systems, and more.
Types of Baumer MXG Series Cameras
There are several different types of Baumer MXG series cameras and each varies drastically from one another, allowing integrators and end users to find the perfect solution for their imaging application. Among the most popular MXG series camera models include:
MXG02: powered by the Sony ICX6180 ¼" progressive scan CCD image sensor, this embedded vision camera can achieve top frame rates of 160 fps. With resolution under 1 megapixel, this camera was built for speed on the GigE interface.
MXGC20: this camera also uses a GigE interface for fast image data transfer, but is powered by the CMOSIS CMV2000 2/3" progressive scan CMOS sensor. At 2 megapixel resolution, the MXGC20 offers high-speed image capture with higher quality images.
MXGC40: at 4-megapixel resolution, the MXGC40 offers the highest quality imaging in the Baumer MXG series cameras. Based on the CMOSIS CMV4000 1" progressive scan CMOS camera, it's capable of image capture at 29 fps in a compact format.
The Baumer MXG series of board-level machine vision cameras can be flexibly integrated into a number of existing systems and can operate under extreme conditions. The ideal solution in a wide variety of industrial applications, Baumer MXG series cameras are known for their high performance and flexibility.
To see more cameras, browse Baumer MXG series cameras from Phase 1 Technology.