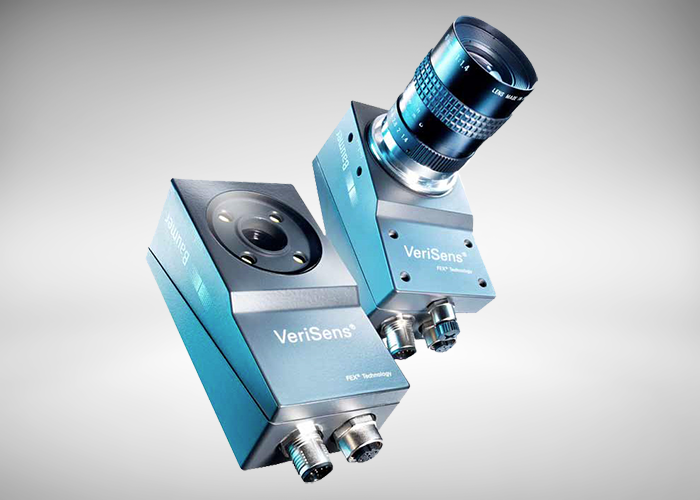 Baumer VeriSens cameras are smart cameras that provide compact, cost effective solutions in a wide range of industrial settings. They are most commonly used in automated packaging and quality inspection applications, but can be deployed in many other environments.
There's a whole range of Baumer VeriSens cameras available. Starting with the CS series for entry level applications to the feature-rich XF and XC series, there's a Baumer VeriSens camera for nearly any industrial application.
Baumer VeriSens Cameras: Smart Cameras for Small Spaces
Smart cameras capture images just like any other vision system. What's different, however, is their ability to extract and transmit application-specific data before the image is sent to a computer.
This capability typically makes smart cameras more compact in design – an ideal quality for space-restricted environments. Sometimes, a bulkier PC-based system simply will not have the required space on the factory floor. In this scenario, smart cameras provide a cost-effective option.
Baumer VeriSens Cameras are Flexible and Versatile
The wide range of features and available models make Baumer VeriSens cameras extremely flexible and versatile. One of their main features is their ease of installation.
These Baumer cameras can be intuitively configured using a PC, with 32 features that can be checked simultaneously. Each system includes all the necessary hardware and software to get the system on line quickly and easily. This is great for those who are new to machine vision technology, but it doesn't mean these cameras lack in functionality.
All Baumer VeriSens cameras – even the entry-level CS models – feature built-in 360o part recognition capabilities with FEXLoc® technology for superior accuracy and reliability in factory automation settings.
The high-end XF and XC series contain a suite of advanced features, such as built-in lighting and optics, among many other things. No matter your needs, chances are there's a Baumer VeriSens camera for you.
Baumer VeriSens cameras are extremely easy to install, feature a compact build and are suitable for use across the industrial sector.
To see all the different models and their built-in functionality, browse Phase 1 Technology's Baumer VeriSens cameras.