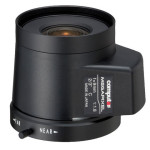 Where image clarity and quality are challenged by external forces such as weather, speed of object, or time of day, having the right lens is as important as having the right camera. Computar's M0918FIC-MP lens has been designed to negotiate the difficult challenges of Intelligent Traffic & Transportation Systems (ITS) as well as other high end surveillance and factory automation applications.
A leader in innovative lenses for more than forty years, Computar has expanded the boundaries with the M0918FIC-MP. Featuring an F1.8, 9 mm manual iris with 5.0 Megapixels in full HD format, the M0918FIC-MP provides maximum resolution and image quality over longer distances as well as optimal detail in close-up applications. The lens also features DC Auto-Iris functionality and comes equipped with a 2/3" C Mount for attachment to surveillance cameras and automated vision systems.

The 5.0 Megapixel series of Computar lenses includes options in 9 mm, 12 mm, 16 mm , and 25 mm focal lengths with manual or DC Auto-Iris functionality. The series was designed for ITS and high end security applications.