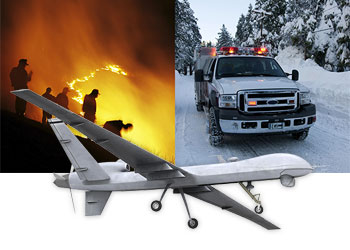 A couple of months ago we introduced you to an article we published on our website entitled Enhancing Situational Awareness with Fire & Rescue Drones. The article discusses the inherent complications and costs of Fire & Rescue missions and how state-of-the-art camera and vision systems technologies are used in high end drones - unmanned aerial vehicles (UAVs) and unmanned aerial systems (UAS) - for fire and rescue operations.

We would like to invite you to read the article again or for the first time.

The article covers a lot of topics important to designers, integrators, and users of drones for fire and rescue applications, including:
Matching Camera to Requirements
Sony's game changing Exmor & Exmor R CMOS sensor technology
Challenges of streaming data
Challenges of stabilization
Challenges of variable lighting conditions
The qualities of cameras that meet the demands of a growing fire & rescue UAV market
You'll learn how the cost-saving and far-reaching capabilities of drones to inform command centers and field crews by delivering real-time information through a live video stream are winning them favor and adoption by many municipal and private fire and rescue organizations.

Have a Happy Thanksgiving!