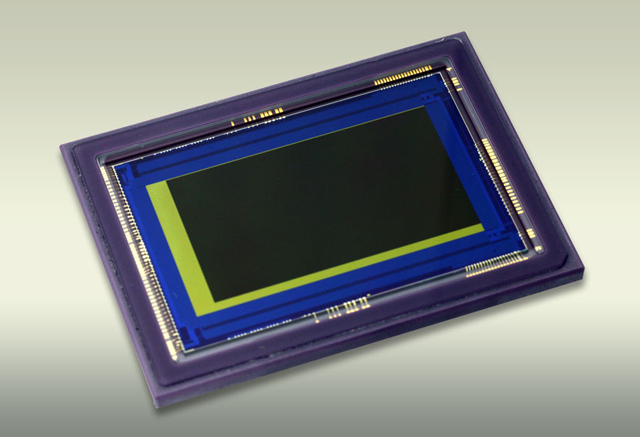 Canon's new industrial vision sensor, the 2 megapixel 35MMFHDXSCA, includes a host of proprietary innovations that set it apart from other sensors with similar resolutions. This truly unique image sensor from Canon features extremely high sensitivity and low noise levels, making it one of the highest performing 2 megapixel sensors on the market.
For low light applications or "big science" applications, this sensor delivers results where other full format sensors simply cannot. With large pixel sizes and a number of technical features that contribute to sharp, crisp images, every part of this sensor is designed for high performance.
19µm Pixel Size on the Canon 2 Megapixel 35MMFHDXSCA Image Sensor
The most unique feature of the Canon 35MMFHDXSCA 2 megapixel image sensor is the 19µm pixel size. Compared to most full format sensor, this is extremely large – in many instances surpassing the pixel size of the most advanced vision systems designed for scientific research.
Most sensors with large pixels have a lot of noise during imaging. Canon has introduced a progressive electric field in each pixel to ensure the quick and even transfer of electrons, effectively minimizing the noise typically associated with large pixels. In this way, Canon achieves the incredible sensitivity of 19µm pixels without introducing noise into the imaging process.
The true value of the 35MMFHDXSCA 2 megapixel image sensor is its remarkable sensitivity derived from technical innovations in pixel size and function.
Canon 35MMFHDXSCA 2 Megapixel Sensor: Technical Features
While sensitivity is a key benefit of this sensor, there are other features that make it a powerful imaging solution in a range of tough applications. While the 35MMFHDXSCA sensor is a rolling shutter sensor, it can still achieve speeds of 98 frames per second in full resolution. At 360 pixels it can achieve frame rates approaching 300 frames per second.
This sensor has a wide angle of view, capable of achieving readout resolution of 2160 x 1280 for large image capture. There's also an option for a 6:4 aspect ratio for applications such as surveillance, or a 1:1 aspect ratio for industrial use.
Available in RGB or monochrome as an area scan camera, this Canon sensor also features proprietary technology to reduce dark currents during long exposure times. This allows for clear imaging over long exposures when only a small amount of light is present.
The 35MMFHDXSCA 2 megapixel sensor from Canon is one of the highest performing full format CMOS sensors in low light and big science applications. A number of technical features make this sensor so powerful in these circumstances.
Featuring proprietary innovations at the pixel level, this 2 megapixel sensor from Canon has extremely large pixels for unmatched sensitivity in a wide range of applications.
To learn more, take a deeper dive on the Canon 35MMFHDXSCA 2 megapixel sensor from Phase 1 Technology.