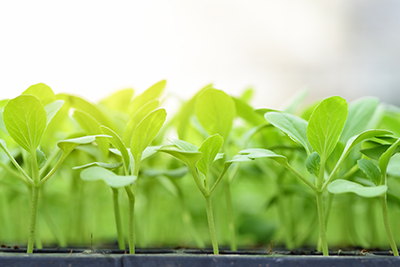 The Computar M1224-MPW2 and M2518-MPW2 C-mount lenses, as well as the C-mount Varioptic Caspian C-39N0-160 auto focus liquid lens, are being used in custom machine vision systems designed for plant phenotyping to measure biomass, stem thickness, and leaf characteristics.
About Machine Vision for Hyperspectral Imaging
Plant phenotype refers to all of a plant's observable characteristics. Machine vision systems combined with artificial intelligence are great tools to help observe and quantify those features. Having the right lenses is critical to ensure the highest quality and reliability of the image dataset that will be used for analysis.
Hyperspectral imaging lets researchers look inside a plant's tissue structure, its pigments, and its water content. These factors help scientists find out how a plant has been affected by environmental variables. In the past, once hyperspectral imaging was done, it was difficult to know how to handle, process, or analyze the images. That is where machine learning comes into play. Machine learning algorithms can analyze large datasets generated by sophisticated imaging sensors.
With hyperspectral imaging, hundreds of wavelengths are scanned by the sensor. But many of these wavelengths are redundant or irrelevant. Narrowing down the ones that are desired for a specific phenotype reduces the challenges and complexity of hyperspectral image analysis. A multispectral machine vision system can be designed to fulfill the specific requirements of the research.
Ideal for close-up imaging applications
2/3" Format
12mm Fixed Lens
5 Megapixel
C Mount
F2.4
39.8° HFOV
Ultra low distortion
Higher relative illumination rate
Floating design
Locking set screws for focus and iris
Liquid Lens (based on the Arctic 39N0 Liquid Lens)
2/3" Format
16mm EFL
1.5 Megapixel
C Mount
Electronically controllable focus
Incorporates all electronic components needed to drive the liquid lens (DC power supply required)
Controlled through either an RS232, I²C, Analog or SPI input
Custom designed machine vision systems leveraging the capabilities of the Computar M1224-MPW2 and M2518-MPW2 C-mount lenses, as well as the C-mount Varioptic Caspian C-39N0-160 auto focus liquid lens, are aiding researchers in their quest to build a digital library of spectral information related to plant diseases and stresses. This information is valuable to breeders, growers, farmers, and researchers around the world.
Speak with a Phase 1 Technology machine vision imaging expert about the Computar M1224-MPW2, the Computar M2518-MPW2, and the C-Mount Varioptic Caspian C-39N0-160 Auto Focus Liquid Lens for your life sciences or machine vision applications.