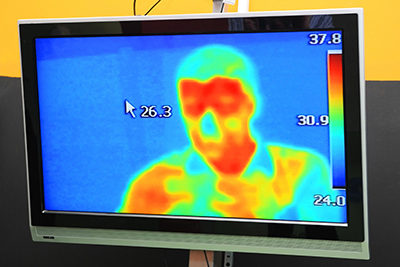 Coronavirus has swept across the world, effectively shutting down business, travel, and life as we know it. Thankfully, the number of new diagnoses per day is decreasing. And now, political figures around the world have shifted the conversation toward reopening the world after coronavirus. But how do we do that?
It's a complicated question, and we don't have all of the answers. What many experts agree on, though, is that technology can aid cities and businesses to mitigate the spread of coronavirus. More specifically, airports, ports, companies, and other entities can use thermal scanning systems to detect a person's temperature without any bodily contact. This utility makes thermal cameras invaluable, and they're selling at unprecedented rates.
One notable example of a thermal scanning system is Teledyne DALSA's Calibir GXM series. By reading body temperature from a distance, screeners don't expose themselves to the virus, and the people screened can remain six feet away from others. How does this help us? Using cameras like the Calibir GXM, we can ramp up testing facilities, test outside of airports, and screen essential workers. Using the Calibir, we can care for today's sick, and we can more quickly adjust to the post-coronavirus world.
The Calbir GXM series is especially useful for applications requiring uninterrupted image acquisition. And screeners can select from over ten lens options and several output solutions to suit different needs. While the Calibir GXM series is incredibly useful for the current health emergency, the series can aid several other processes like welding, smelting, baking, and firefighting.
We don't know what "The New Normal" will look like. We're not sure if or when the world will return to its previous state. But we do know that thermal cameras will play a critical role in the near future, and Teledyne DALSA's Calibir GXM series is one of the best thermal scanning systems on the market today.
Do you want to help protect your workers and your community? If so, view the DALSA Calibir series on our website today.