The huge feature set on the equally compact and powerful Genie TS-M1920 from industry leader Dalsa makes it the bird of prey of this set of industrial cameras. In particular, this area scan camera is ideal for agricultural automation because it delivers reliable and high speed imaging in diverse and even hostile environments.

A Wide-Ranging Camera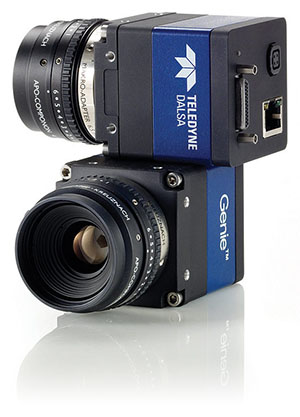 The TS-M1920 starts with Dalsa's proprietary monochrome CMOS sensor technology, which provides 2048 x 1080 resolution, in order to build a rugged and wide-ranging area scan camera. It also achieves such a dynamic range through Teledyne's "Burst-Mode," which enables high speed image capture under a variety of conditions through on-board buffering. This combination of innovative features allows the Genie to achieve a true global shutter while adapting to changing and unpredictable environments. Its very durability and reliability allows the TS-M1920 to capture images in the darkest shadows and brightest highlights of diverse climates and weather conditions.

Control and Flexibility

Furthermore, the Genie TS-M1920 incorporates programmable video buffering to capture images before and after a trigger event so that designers have greater control and flexibility in this process. Once captured, images are easily transferred via gigabit Ethernet (GigE) directly to a PC. These technologies specifically ease transfer over potentially long distances without compromising image quality. At the same time, the TS-M1920 includes more fundamental features, from image-to-image exposure to zoom, focus, auto iris, image compression, and multiple ports. It fuses these many innovative features while maintaining a rate of 70 frames per second and a 2 megapixel resolution.

With its diverse feature set, durability, and wide-ranging flexibility, the Dalsa Genie TS-M1920 is well-suited to many agricultural applications, including inspection and monitoring through unmanned and aerial vehicles.

Next in the Industrial Cameras for Agricultural Automation series, we'll look at the Sony XC-E150 Mini Area Scan CCD Camera.