Performance. Convenience. Value. The new DALSA Linea series of advanced monochrome CMOS line scan cameras delivers on all three fronts. Through high quality and cost-effective imaging, the innovative technology and rich features that define this line scan camera series show that a small key truly can open big doors.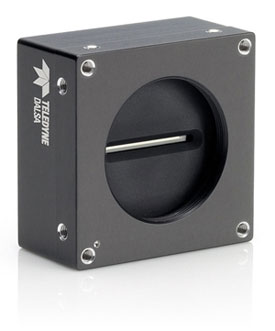 Opening Up Flexibility & Value

Each camera in the Linea series starts with an advanced CMOS sensor that delivers high quantum efficiency while minimizing noise. From there, DALSA's patented TurboDrive™ technology provides full image quality for GigE cameras, with industry-leading line rates of up to 80 kilohertz. This high-quality imaging power is framed in compact and lightweight yet durable packaging to ensure optimum flexibility.

New Horizons in Performance

The Linea series of line scan cameras has a variety of feature-rich models available to help make each machine vision job as effortless as possible. Among the available models are GigE cameras in 2k and 4k at 80 kHz. CameraLink models offer resolutions of 2k, 4k, and 8k at 80kHz as well as the impressive new high performance 16k model at 48 kHz.

Each Linea series camera provides an important entry point for taking advantage of DALSA's high-performance technology, particularly the patented TurboDrive™ technology that boosts the capabilities of GigE. These cameras are ideally suited to machine vision applications in security, high-performance sorting, materials grading, as well as automated and web inspection.

In Thursday's post, we take an in-depth look at how the innovative features of the Linea line specifically open doors for greater system performance and return on investment.