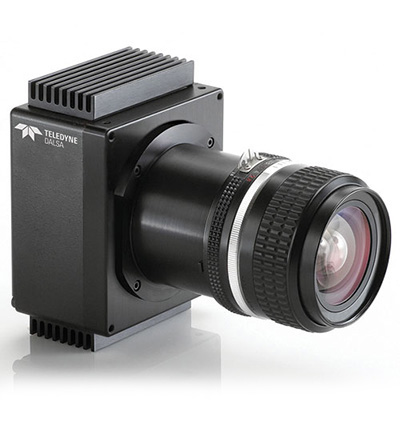 If you're searching for a high-end camera for industrial machine vision applications, look no further than the Dalsa Piranha family of industrial cameras. Featuring top of the line performance and the latest technology, Dalsa Piranha cameras can cover an impressive range of applications in the industrial sector.
Potential applications include print inspection, electronic manufacturing inspection, postal/parcel sorting, document scanning/image lift, full web inspection, high-end industrial and food inspection, low-light imaging, high throughput applications, pharmaceuticals inspection, materials grading systems, general purpose machine vision, and much more.
Whether you need color or monochrome, Camera Link or Camera Link HS, high speed and/or high-quality imaging, chances are there's a Dalsa Piranha camera for you.
Dalsa Piranha Camera Families
The Dalsa Piranha4 camera series is the latest line of cameras in the Dalsa Piranha family. These cameras represent the highest performing, most powerful lineup of Piranha cameras to date. With industry-leading signal to noise ratios and throughput up to 820 megapixels per second, they're perfect for high-performance electronics and semiconductor inspection, as well as other general machine vision and inspection applications.
The Dalsa Piranha XL series is another high achieving line of cameras in the Dalsa Piranha family. These cameras deliver unprecedented speed and responsivity with low noise for high speed, high throughput applications. With resolutions from 8K to 16K, these cameras are perfection for high-end industrial inspection and machine vision applications.
The Dalsa Piranha HS camera series have been a staple of the Piranha camera family. These cameras boast stunning line rates up to 142 kHz and monochrome CCD sensors capable of producing 12K resolutions. The Dalsa Piranha HS cameras specialize in high speed industrial applications where uncompromised quality and performance is paramount.
There are several other lines of Dalsa Piranha cameras, spanning a wide range of potential industrial applications. The ones listed above are some of the highest achieving, though you may find another line that's more suitable for your operations.
Dalsa Piranha cameras are world-renowned for their unparalleled performance and reliability. Each camera series has a different specialization. To find the one that's right for you, you can browse a lineup of Dalsa Piranha cameras here.