Back in December we published a post that helped explain the difference between HS Link and CameraLink HS. Back then, the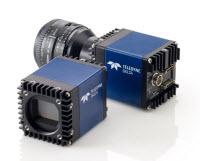 CameraLink HS (CLHS) had just become a standard. Now, it's been officially announced that CameraLink HS is the AIA's newest standard. So, with that in mind, Dalsa has developed an upgraded version of both a camera and framegrabber to help meet this latest CameraLink HS standard.
The camera, the Falcon2 12M, will still have all the features of the initial CameraLink version, but will have added benefits to make it compatible for the new CLHS interface.

This upgraded camera will include features such as: high speed and high resolution, CLHS interface -CX4 connector, 4 lanes, and up to 10 bits of output. These features make it perfect for applications where aspects like dynamic range and throughput matter.

Much like the Falcon 12M, the upgraded framegrabber, the Xcelera-CLHS PX8 will offer some incredible features as well. It has GenCP and Gen< i >Cam camera-ready software, half-length PCI Express x8 board, and the CLHS interface -CX4 connector, 4 lanes as well.

So, now that Dalsa has shown complete support for this new standard, designers start your Cad/Cams!