As a Georgian proverb has it, "The right balance depends on the weigher." The fusion of speed, quality, and cornucopia of features in the DALSA XTIUM CameraLink HS frame grabber models deliver the high quality, enhanced image acquisition and data transfer required for demanding high-speed and high-bandwidth inspection and machine vision applications.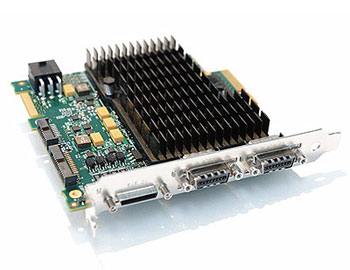 Uncommon Speed & Quality

Based on Teledyne DALSA's Xcelera frame grabber series, the compact, single slot Xtium CLHS-PX4 and -PX8 models are based on AIA's field-proven CameraLink HS standard and use PCI Express Gen 2.0 buses for high speed image acquisition and image transfer to host memory. Using a standard CX4 cable that can go beyond 15m, image acquisition rates for the PX8 are up to 2.1 GB/s with host transfer speeds up to 3.2 GB/s. Both models are designed to sustain speed and quality with enhanced memory that helps adapt to ever-rising industry standards for resolution and speed.

A Wealth of Features

Performance is enhanced through the on-board Data Transfer Engine (DTE) that maximizes bandwidth and throughput. This eliminates specialized hardware and keeps CPU usage down, while data forwarding enables distributed processing. The Sapera LT software toolkit simultaneously provides full support for system integration and enriches environments. When combined with DALSA's Piranha XL line scan camera series, the XTIUM-CLHS series provides a powerful vision solution.

The PX4 and PX8's unique balance of features makes them powerful machine vision tools. Combined with DALSA's Piranha XL cameras, XTIUM-CLHS frame grabbers deliver a powerful solution for reliable, high quality high-speed inspection and machine vision applications.