Teledyne Dalsa's Calibir uncooled cameras have been "hotly" anticipated by experts in the machine vision world. Now they've officially launched, providing shutterless long wave infrared imaging with excellent image quality.

Optimized under the SWAP philosophy, the CALIBIR 640 model makes good on its promise of "Size, Weight, and Power." Its measurements are just 29 x 29 x 29 millimeters, its mass a mere 38 grams without the lens.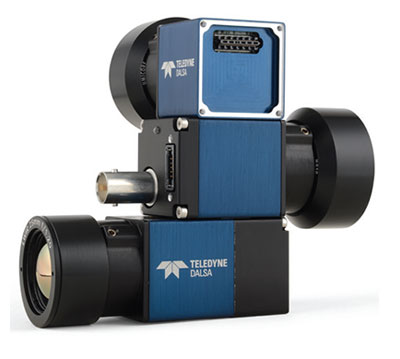 What does it manage to pack in that micro space?
Resolution of 640x480 pixels
30 to 50 frames per second
17 micrometer pixel size
This new series of cameras represents a big step into the IR imaging market for Teledyne Dalsa. It's an ambitious first-time offering, and sure to be exactly what today's UAV manufactures need as they respond to demand for different size and weight profiles. The microbolometer camera is backed by an adaptive algorithm that compensates for unexpected temperature changes out in the field.

But UAV engineers aren't the only ones who should take a close look at the Calibir series. Designed to operate anywhere from -40°C to 60°C, it can handle a huge variance in operating conditions. It supports a wide range of video formats, physical interfaces, and LWIR lenses, all supported by an excellent onboard processing engine. This makes it tremendously versatile.

Surveillance, monitoring, defense, and security all leap to mind – but there are other applications.

The Calibir series is also sure to be at home with a wide range of transportation infrastructure challenges, such as rail inspection. Its introduction will empower customers to take a new look at how imaging and machine vision technology can help them with sensitive inspection issues in adverse environments. By land or air, the Calibir series can fill all kinds of niches.