With their new line of machine vision GigE cameras, Emergent Vision Technologies has blazed the trail for exceptional yet cost-effective imaging. Their 10 Gbps GigE camera technology delivers an industry first of data speeds up to 10 billion bits per second. The innovative Emergent HS-Series and HT-Series of area scan cameras ensure high-quality performance for imaging applications that require high resolutions and speeds alike.

Leading with Speed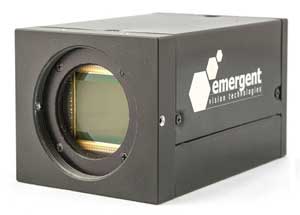 All models are built around advanced CMOS sensors with Global Shutter technology, resolutions of 2, 4, 12, or 20 megapixels, and frame rates of 338 frames per second (fps), 179 fps, 84 fps, and 32 fps, respectively. The whole line, including monochrome, color, and near-infrared (NIR) options, relies upon transceivers whose bandwidth requires higher-grade copper cabling or fiber for longer distances. Costs also remain low since the new 10 Gbps technology works with GigE, which is standard for broadband transmission.

Delivering Quality

These robust cameras easily capture high-speed objects with an impressive dynamic range in a variety of lighting conditions and without blurring. The flagship HS-20000 makes inroads for real-time imaging applications in fields from broadcasting to inspection with a 5120 x 3840 full resolution at 32 frames per second and a panoply of triggering modes to ensure precise synchronization. The entire series boasts an excellent price-performance ratio and easy integration into existing systems through broad software compatibility, as well.

Emergent's new series of 10 Gbps GigE machine vision cameras ensures high speed and high resolution imaging for a variety of applications. From aerial surveillance to high speed inspection and beyond, these trail-blazing models clearly set a new standard of performance.