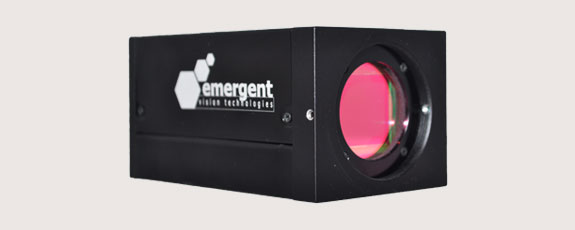 High quality image capture at extremely high speeds is a major challenge. At high speeds, images are subject to distortion and blurring, creating difficulties in inspection, surveillance and other high-speed applications.
The innovative HT-1200 camera by Emergent Vision Technology is poised to solve these problems by providing high-speed image capture for a wide variety of challenging industrial settings.
HT-12000 is a Breakthrough in Vision Technology
Emergent Vision Technology's (EVT) HT-12000 camera series features a global shuttering system and 10GBaseT interface – a first ever in the vision industry – delivering up to ten times the speed of traditional GigE systems.
The 10GBaseT interface is GigE compliant, transmitting data over a CAT-6A connection, providing increased bandwidth at a high throughput rate without sacrificing image quality. The HT-12000 cameras provide up to 12 megapixels resolution image capture at 84 fps.
The HT-12000 series is highly sensitive and has flexible exposure, making it good for a wide range of lighting conditions – even low light and near IR. They are GenICam compliant, ensuring compatibility with all major software libraries. Lens mounting options include F-mount with an optional Canon EF lens adapter.
Typical applications of the HT-12000 camera series include solar panel and display panel inspection, electronic assemblies, large aerial surveillance, production lines, medical imaging, intelligent traffic systems and much more.
With unparalleled speed and performance, the HT-12000 camera series by Emergent Vision Technologies is truly a breakthrough in vision technology, delivering ultra-fast, high-quality image capture.
Visit the Emergent Vision Technology HT-12000 product page to learn more or request guidance from one of our industrial camera specialists.