Dalsa's Xtium CL-MX4 framegrabber shows that speedy execution is the mother of good fortune. This monochrome framegrabber supports area and line scan cameras with high-speed access to host memory and high-bandwidth support. As part of DALSA's new Xtium series, this model delivers both over longer distances, all within a compact, half-length, single-slot solution for industrial imaging needs.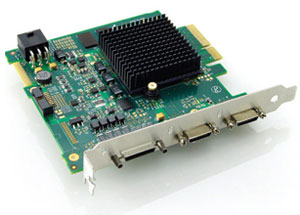 Speeding Execution

This framegrabber is based upon the Xcelera series' field-proven power and incorporates an industry-standard PCI Express Gen 2.0 expansion bus. The CL-MX4 thus ensures speedy support at over 1.7 Gigabytes per second or 840 megabytes per second via its PCIeGen 1.0 slot. Its innovative Data Transfer Engine (DTE) maximizes bandwidth and sustained throughput with strong results in the form of ready-to-use image data and without requiring specialized motherboards or chipsets.

Going the Distance

The CL-MX4's high bandwidth sustains Camera Link 80-Bit modes and so maximizes both cable lengths and data rates. As DALSA's first model to support all Camera Link configurations with the same hardware, the CL-MX4 reduces CPU usage and system costs while supporting operations at up to 85 megahertz. Its enhanced feature set and enhanced memory architecture ensure good fortune in terms of optimum frame and line rates, alongside advanced pixel/tap configurations. Through two Base cameras or one Medium, Full, or 80-bit camera, this field-configurable framegrabber adapts to any number of machine vision applications. With the addition of Sapera Essential support and the availability of the color CL-PX4, DALSA has created a multipurpose way to meet your camera technology needs.