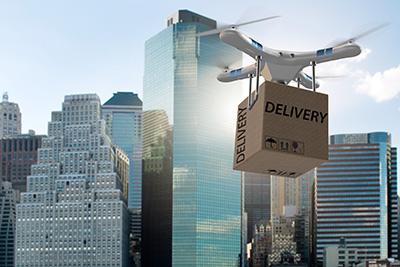 Everyone from Amazon to Taco Bell to your neighborhood grocery store is now offering convenient options to customers who just can't get enough home delivery. Whether it's the COVID-19 pandemic or consumers working remote, they want online orders delivered in hours or minutes, not days. These demands are making companies like FedEx think about how drones and computer vision might be used to deliver packages.
FedEx and Other Parcel Carriers Are Already Testing Robot Delivery
If FedEx is going to compete with personal delivery, they will need a robust SameDay service. But sending drivers in trucks and vans to pick up packages from shippers and deliver them to recipients is often cost-prohibitive. To solve this problem, UPS is developing its Flight Forward service. Amazon has big plans for Prime Air. And FedEx is testing Roxo and drone delivery.
Roxo is a small, six-wheeled, parcel delivery bot. To deliver packages, it first uses machine learning algorithms to map its route. Then computer vision, artificial intelligence, and its stair-climbing wheels help Roxo safely travel sidewalks and roads while avoiding obstacles and pedestrians. Roxo's link to a remote tower provides additional guidance and computing power when needed.
FedEx also tested autonomous delivery with the Nuro R2. Nuro's technology lets FedEx go beyond the sidewalk and get on the road to make appointment-based and multistop deliveries. Instead of requiring multiple drivers, a single operator could manage a fleet of FedEx SameDay robots. Customers who want contactless delivery will also be pleased.
The Future of Package Delivery with Drones and Computer Vision
You've likely seen consumer and professional-grade drones used for photography and videography. And you might even be aware of some of their industrial uses like inspection or surveys. But companies like FedEx are hoping that drone technology could provide autonomous deliveries without any need to navigate traffic or wait on a truck or driver.
Drones can be outfitted with computer vision technology that may soon enable them to find a package, scan it, and whisk it away into the sky en route to its recipient. After GPS navigation gets it in sight of the home, cameras and object recognition software can help it navigate safely and deliver the package to the customer's doorstep.
FedEx is partnering with Wing Aviation to make drone deliveries more accessible to consumers and small businesses. Rather than needing an operator, FedEx can deliver parcels by employing computer vision and GPS technology. A recent pilot program with Walgreens allowed customers to receive everything from over-the-counter medications to groceries.
Let the experts at Phase 1 Technology help you find the right computer vision cameras for your industrial application.