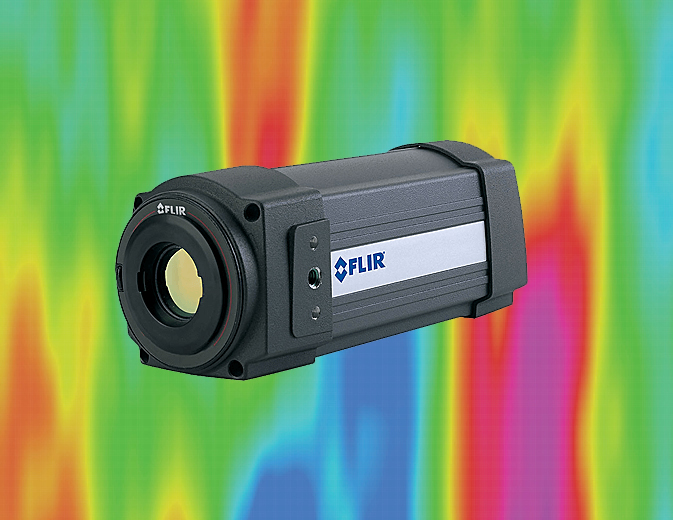 The FLIR A310 thermal imaging camera is perfect for monitoring valuable assets. With excellent image quality and built-in functionality for high-end surveillance and monitoring applications, these cameras safeguard worksites and measure temperature differences to detect problems before they become costly failures.
FLIR A310 thermal imaging cameras are fixed-mounted and can be deployed just about anywhere. Their versatile design and performance allows them to solve the challenges associated with monitoring critical assets across a number of industries.
FLIR A310 Thermal Imaging Camera Features
All FLIR A310 thermal imaging cameras come with built-in analysis capabilities for applications that require spot or area measurements, as well as temperature difference detection. These measurements can be set to trigger an alarm based on the analysis results, internal temperature or digital input.
Alarms and analyses can be share to a PLC, as FLIR A310 thermal imaging cameras are Ethernet/IP and Modbus TCP compliant. Additionally, built-in features allow users to select only key areas of interest for image analysis.
FLIR A310 Technical Specifications
FLIR A310 thermal imaging cameras have uncooled Vanadium Oxide (VOx) microbolometer detectors for producing crisp, clear thermal images. These cameras can detect temperature differences as small as 50mK with 320 x 240 pixel images.
Communication and power can be supplied by a single cable for a streamlined design. MPEG-4 video can be live-streamed on a PC, while all FLIR A310 cameras can be controlled remotely over the web with the TCP/IP protocol. These cameras are available in protective housings that increase environmental specifications to IP66 without sacrificing image quality.
FLIR A310 thermal imaging cameras provide excellent image quality in a versatile design. With high sensitivity for detection of temperature differences and spot or area measurements, these cameras solve many of the most common challenges in monitoring of critical assets.
For more information, read a deeper dive on technical specifications for FLIR A310 thermal imaging cameras from Phase 1 Technology.