As industrial imaging has moved beyond the visible, industry leaders like FLIR Systems are proving the Chinese proverb that "It is better to weave a net than to pray for fish." The FLIR AX8 thermal imaging camera specifically weaves together thermal and visible cameras with proprietary MSX technology. This fixed-mount thermal imaging camera thus ensures a powerful catch of continuous equipment monitoring and protection.

Catching Temperatures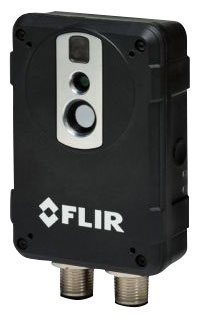 The FLIR AX8 sensor is built upon an innovative Lepton thermal imaging core that enables early detection of temperature fluctuations for electrical and mechanical equipment. With over 4800 active temperature points per image, it is well-suited to continuous condition monitoring and fire prevention without any periodic manual scans. As such, it guards against service interruptions and equipment failures, even as its low price and energy use make the FLIR AX8 ideal for ever-evolving applications.

Streaming Success

In the process, the FLIR AX8 relies upon a built-in web interface and industry-standard interfaces for data streaming. Multiple video options also make it possible to view thermal, visible light, or combined MSX multispectral dynamic imaging, which increases edge detail and contextual awareness by layering visible upon thermal data. With a variety of outputs, this thermal imaging camera delivers live video of installations, automated alarming based on pre-set thresholds, and trend analysis.

At only 54 x 25 x 95 millimeters, the FLIR AX8 thermal imaging camera easily integrates into electrical and manufacturing contexts, ensuring a dynamic catch for monitoring, alarming, and protection in a wide range of industrial imaging applications.