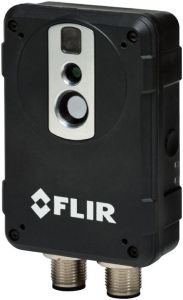 In late September, attendees at Germany's Security Essen tradeshow got a firsthand glimpse of the AX8, a highly anticipated visual-thermal camera device from Portland, Oregon-based FLIR. The company will be rolling out AX8 at a very attractive price point over the fourth quarter of 2014. For decision-makers in the logistics, energy and technology sectors, AX8 represents one of the most compelling industrial product launches of the year.
FLIR AX8: Core Capabilities and Features
AX8's compact housing includes both thermal imaging and visual cameras on a fixed mount. According to FLIR's website, the device "provides continuous temperature monitoring and alarming for uninterrupted condition monitoring of critical electrical and mechanical equipment." It's particularly useful in cramped or compact areas in which direct inspection and manual temperature monitoring are impractical.

AX8's key components include:
A thermal imaging core with 4,800 measurement points
Durable IP-67 housing
A visual camera whose images can be seamlessly overlaid with information from the thermal imaging core using FLIR's proprietary MSX video technology
Ethernet/IP and Modbus TCP interfaces that allow for high-speed data and Web connections
Internal analysis capabilities
An alarm suite that automatically alerts personnel when temperatures rise above a pre-set limit
Several streaming data formats, including MJPEG, MPEG and H.264
AX8's Differentiators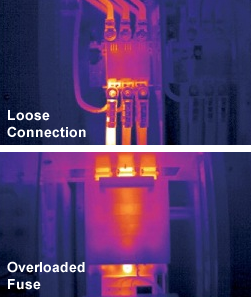 FLIR's new product offers value on several fronts:
Intelligent monitoring: AX8 takes a comprehensive approach to visual and thermal monitoring. Its robust data connections allow it to stream live video of its surroundings, helping observers make real-time observations of sensitive systems. Its internal analysis tools use thousands of data points to monitor temperature trends and identify potentially dangerous activity. Impressively, its pre-set alarm function alerts human monitors to unsafe hotspots before they cause potentially catastrophic conflagrations.

Compact design: AX8 measures just 54 x 25 x 95 mm, allowing for easy placement in hard-to-reach spaces, including electrical boxes, machine housings, storage compartments, engine rooms and refrigeration equipment.

Proprietary, multi-spectral imaging capabilities: FLIR's proprietary MSX imaging technology seamlessly overlays AX8's thermal imaging data with visual inputs to create a sharp, well-defined and realistic picture. In turn, this allows users to interpret the relationship of emerging hotspots to other components and systems, informing the response and minimizing the potential for catastrophic knock-on effects.

Low price: For all the perks and features AX8 offers, its suggested retail price makes it one of the best values in the imaging space. At this price, decision-makers may have little trouble deploying the resources necessary to conduct a limited test of the device before expanding its use as its benefits become apparent.
What Can AX8 Do for Your Operation?
According to FLIR, AX8 "provides early detection of temperature-related issues in electrical and mechanical equipment, guarding against unplanned outages, service interruptions, equipment failure and fire."
Its early detection and response capabilities may be useful to firms with:
Critical data centers for which any downtime is unacceptable
Transit systems and rail yards in which track and cargo fires can cause costly, potentially tragic outcomes
Power generation and storage facilities in which uncontrolled thermal activity presents an unacceptable risk
Storage facilities, including those equipped to hold volatile electronics, batteries and petrochemicals, in which fire or thermal damage can cause significant economic losses
However it's employed, FLIR's AX8 is a groundbreaking, highly versatile piece of equipment that can dramatically enhance the efficiency of essential tasks in a variety of commercial and industrial environments. By streamlining core processes, improving error detection capabilities and reducing the likelihood of costly malfunctions, AX8 pays for itself. As you review your operational needs for the coming year, you may conclude that this compact, powerful and eminently affordable device is an irresistible proposition.
Explore our entire lineup of Flir thermal imaging infrared cameras.