FLIR thermal camera lines open up new dimensions of data gathering, pushing the boundaries for high-quality, industrial vision monitoring and inspection solutions through non-contact, non-destructive temperature measurement.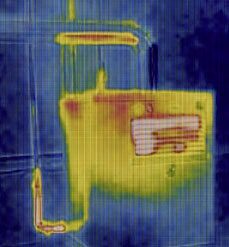 High-Quality Control

FLIR thermal or thermographic cameras specifically detect surface temperatures, forming an image using infrared radiation. By translating thermal energy (heat) into light, defects can be seen, persons can be detected, gases can be detected, and heat can be measured, making these cameras ideal for a variety of monitoring and inspection applications. This technology helps to minimize failure rates for video output while providing a cornucopia of other benefits. Through early detection, losses can be minimized, production maximized, and customer satisfaction enhanced.

Pushing Boundaries

FLIR thermal camera technology offers options for a wide variety of monitoring and inspection applications. FLIR's compact A series cameras are ideal for use in hostile environments and are capable of recording minute temperature changes at high speeds. The FLIR A310 is ATEX compliant and suitable for monitoring in explosive atmospheres. The A6604 camera detects gas leaks as well as harmful greenhouse gases. The A310-PT is a pan-tilt camera used for such applications as monitoring electrical substations and security breeches. The FLIR AX8, the newest offering, is a remarkable solution that combines thermal and visual cameras in a small package, making it ideal for continuous condition and safety monitoring.
Among the many features offered, FLIR cameras are GigE Vision and GenICam compliant, providing plug-n-play functionality when used with software such as IMAQ Vision and Halcon.

You can learn more about FLIR cameras at our website.