In response to the increasing use of high resolution CCD cameras, Fujinon lenses offer fixed, vari-focal auto iris, and motorized zoom options that are compact, lightweight, high resolution, and low distortion to ensure extraordinary image quality.

Offering a variety of models to meet diverse needs for macro photography, low light environments, high vibration and harsh environments, and multiple CCD cameras, Fujinon lenses for high resolution CCD cameras include 1", 1/2" and 2/3" 1.5 megapixel lenses, 1/3" high resolution lenses for 3CCD, and 2/3" 5 megapixel lenses.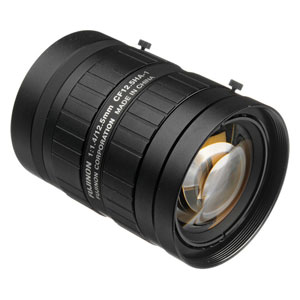 A Cornucopia of Features

The Fujinon lenses' diverse features are key to their adaptability and may include:
Rear focusing system for improved performance in macro photography
Wide-aperture (F1.4) design for clear images under low light intensity
Low-distortion design for accurate image input
Enhanced image recognition accuracy achieved by reduction of distortion and improvement of illumination uniformity
Robust enclosure resistant to vibrations and shocks
Focus & iris lock tab provided, supporting environments such as vibration
Locking knobs for the iris and the focus
Compact, lightweight and robust design, supporting various systems
C Mount/ CS Mount
Fujinon lenses for high resolution CCDs deliver superior image quality for a wide variety of demanding machine vision, robotics, security, and high-end surveillance applications.