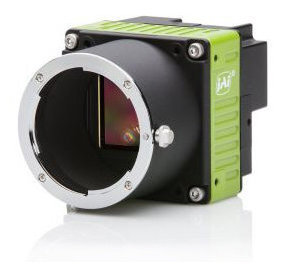 With the addition of the SP 5000 C Spark Series, JAI has expanded their high quality and high throughput series to include advanced models that fuse together high resolution, frame rates, and overall image quality. This translates to the ultimate performance in an area scan camera, with speeds up to 10 times traditional models.

The entire Spark Series offers the latest and greatest in resolution and speeds for CMOS imagers alongside an extremely efficient global shutter, in-camera pattern correction, double sampling in both analog and digital, low power use, and industrial grade durability.
The 5000 line of high performance 5-megapixel CMOS cameras also boast a reasonable price, even higher durability and resistance to shock or vibration, and analog and digital gain control. For changing environmental conditions and other challenges, these cameras offer low-noise pixels adapted to low light, high range modes to catch high-contrast bright and dark details, and JAI's unique, acclaimed auto level control that integrates auto iris, shutter, and gain capabilities.

Multiple digital interfaces are provided, from a 2-channel CoaXPress to a USB3Vision standard and GigE Vision's "frame grabber-less technology," as well as a Camera Link interface. Each interface provides a high level of output, from 211 frames per second through the CoaXPress model to 62 fps and 44 fps for 8-bit monochrome or raw Bayer images via the USB and GigE Vision versions, respectively. The result is an industry-defining area scan camera that provides images with high pixel uniformity and extraordinary image quality.

These are the ideal cameras for applications that require high quality, resolution, and frame rates - from high-speed machine vision inspections and production line monitoring to outdoor applications like aerial mapping and surveillance. The extraordinary output, sensitivity and dynamic range of the 5000 C area scan camera line make these models ideal for your higher performance application needs.
Explore our entire lineup of JAI Spark Series cameras.