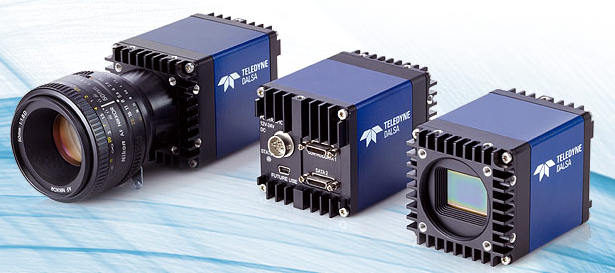 The Dalsa Falcon2 camera series boasts an impressive range of features and capabilities for a wide range of industrial machine vision applications. These machine vision cameras leverage the latest Dalsa technology to capture the highest quality images possible, especially in high speed applications.
Dalsa Falcon2 cameras are ideal for inspection and recognition applications that require high imaging speeds and uncompromised image resolutions.
Dalsa Falcon2 Camera Technical Features
The Dalsa Falcon2 camera series includes models in color and monochrome, with resolutions from 4 megapixels to 12 megapixels. Shutter speeds can reach 168 frames per second, and CameraLink and GenICam compatibility ensure robust connectivity, even in the most demanding settings.
These Falcon2 cameras have features new to the Dalsa lineup. These CMOS sensor-enabled cameras come with cutting edge image-enhancing technology, unique to this series of Dalsa cameras, to ensure the highest levels of accuracy and consistency.
It's this CMOS technology that truly sets the Dalsa Falcon2 apart.
Why Should Integrators Consider the Dalsa Falcon2?
As an integrator, you're just as invested in your customer's success as they are. The only difference is, you're the machine vision expert. You can rely on the Dalsa Falcon2 to provide the results you need.
With a unique combination of high speed imaging capabilities and superior image resolutions with accuracy and consistency, the Dalsa Falcon2 cameras solve machine vision challenges that other cameras simply cannot.
This camera series has unique technology, allowing it to provide such great results in a wide variety of industrial applications. Also, these cameras come in several different models, allowing you to choose the best one for your integration project.
The Dalsa Falcon2 cameras leverage cutting-edge technology for industry-leading performance. With high speed and high image quality, they are great for integration projects involving high speed inspection and recognition.
To learn more about the Dalsa Falcon2 lineup, visit our product page for Dalsa Falcon2 Cameras.