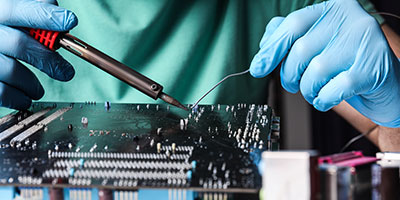 As a machine vision integrator, you know that one of the main selling points for machine vision and automation is that they help to make processes easier. But like any other equipment in a production facility, machine vision components need maintenance.
A good system integrator provides a clear maintenance plan to their customers. But the best integrators offer service solutions to maintain all or part of a machine vision system, allowing customers to focus on manufacturing instead of maintaining their automation systems.
Integrators and Customers Can Mitigate Risks with Maintenance
Manufacturers aren't experts on machine vision. So, they rely on their system integrator to tell them what to expect when it comes to vision system maintenance. This may involve physical tasks, such as cleaning cameras and housings to software updates to re-calibration.
Completing a regular maintenance checklist ensures that all devices and software are as effective as possible. When maintenance is neglected, inspection results lag, product quality suffers, and avoidable stoppage occurs. And the integrator will likely get the blame.
Machine Vision Maintenance Builds Lasting Relationships
Integrators who wish to offer a complete maintenance package will focus on three areas: identifying maintenance needs, documenting all maintenance tasks, and performing regular customer education and training.
Develop a maintenance plan. When you provide customers with a clear plan of action for maintenance, they will view you as a strategic partner instead of just a vendor. You must explain clearly why each of the maintenance tasks is necessary for them to get optimal performance from their machine vision system. Your customers will further appreciate why they need an ongoing relationship.
Keep clear documentation. When maintenance is performed regularly and equipment failures are minimal, it can be easy for manufacturers to forget how much work goes into maintaining equipment. Clear documentation of all completed maintenance will help you to explain what it takes to keep a facility's system going and improve the efficiency of repairs which furthers their reliance on you.
Perform customer training. Training is another key component to building customer loyalty. It helps to establish the integrator as an authority. But it also shows that you want to help the customer understand their machine system and that you also want to help them avoid downtime. And when you show you care about their business, customers will want to keep you on their team.
Are you looking for the best machine vision camera for your next automation system integration? Call Phase 1 Technology Corp today and we'll help you find the camera you need.