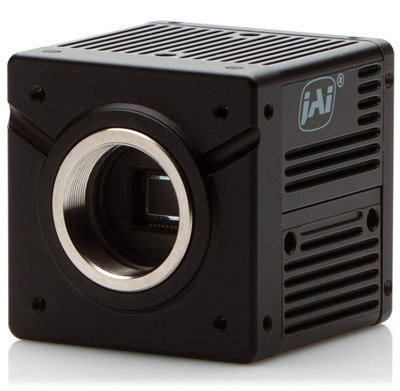 With an overall goal of reducing crime, a countless number of cities of all sizes are jumping on the smart city band wagon by implementing outdoor traffic and surveillance systems. Megapixel CCD cameras such as the JAI BB-141GE 1.4 MP camera, are used in a variety of machine vision applications including outdoor surveillance and small format traffic solutions.
Positive Effects of Outdoor Surveillance
Outdoor surveillance has positive, beneficial applications. Cameras collect data that is used to help improve safety and even aid in the reduction of energy consumption.
Cities can outfit traffic lights with cameras that identify pedestrians and cyclists. That information can be communicated to cars to help make the road safer. By installing surveillance technology, cities can even adapt infrastructure in real-time. For example, engineers in Bellevue, Washington, tweaked traffic signals to increase green light duration during the holiday season along busy shipping corridors.
And residents may even access the surveillance technology for general information that's beneficial for them to know, such as checking the real-time status of an intersection or road conditions from their web browsers. Who wouldn't want to know how much traffic to expect and if travel plans or errands should be delayed or rescheduled?!
Outdoor Surveillance Technology Leads to City Redesigns
In order to develop and implement an outdoor security camera system, city planners and administration must take current and future city designs into account. Buildings, geological features, and other structures can prohibit the use of outdoor surveillance or the data that can be captured. Planners must lay out cities with these systems in mind.
Even building owners can leverage this data to improve design. "The flip side of the coin is how these technologies can be used to track people's movement around the built environment be it a public realm, office, shopping center or warehouse," says Nick Wright, Strategic Consulting at CBRE UK. "The ability to capture that data and use it to improve space utilization or improve productivity is where many landlords are now heading as they look to improve the real estate end user experience."
Wright continues, "And while some of these more advanced technologies like deep learning are seeing early use today, most cities are leveraging already-widespread surveillance technology to mitigate traffic, crime, and other urban challenges."
The JAI BB-141GE Camera for Outdoor Surveillance
The JAI BB-141GE monochrome or color 1.4 megapixel CCD camera with GigE interface is optimized for outdoor effectiveness in traffic and high end surveillance and security applications. Featuring excellent sensitivity and spectral response, the camera is designed around Sony's popular ICX285 2/3" progressive scan CCD (1392 x 1040 pixels) sensor. The sensor uses its 6.45 µm pixel size and improved microlens technology to provide higher overall sensitivity (as low as 0.03 lux) with low smear characteristics.
Featuring low noise operation, megapixel resolution, outstanding image quality, and a high level of automated operation, the JAI BB-141GE provides the right combination of high-performance features beyond what is typically available in a small format camera – both interlaced and progressive – used in traffic and high end surveillance and security applications.
No longer a future trend, today more and more cities are leveraging outdoor cameras for high performance traffic and surveillance systems that help them to monitor and build their smart cities.
To learn more about the JAI BB-141GE 1.4 megapixel CCD camera with GigE interface for your traffic or outdoor surveillance application, speak with the vision experts at Phase 1 Technology.