When it comes to JAI's latest area scan camera, small truly is beautiful. The JAI 2400-PGE CMOS area scan camera draws on the GO Series' compact and feature-rich design, but adds the Sony IMX174 imager's astonishing low noise technology. In so doing, it delivers best-in-class image quality in an affordable, entry-level package.

Stunningly Small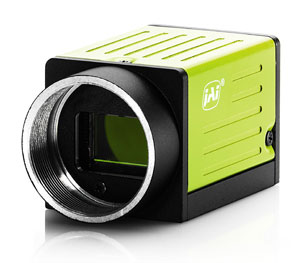 At 46 grams, the 2400-PGE provides industrial durability in a small, light-weight camera, from an 80G shock rating to 10G vibration rating and operating temperature between -5 and 45 degrees Celsius. Color and monochrome models provide 8-bit, 10-bit, or 12-bit output to suit specific applications. Standard features also include shading and blemish correction. The auto gain and auto shutter management capabilities allow users to optimize for lowest noise, fastest shutter, and more, all in an integrated function through JAI's Auto Level Control (ACL). The high-performance global shutter supports speeds as fast as 38 µs. You get optimal performance and quality without compromising compact design.

Beautifully Powerful

This area scan camera attains exceptional resolution through its global shutter and single-channel GigE vision interface, with rates of up to 48.8 frames per second at 2.35-megapixels and full 1936 x 1216 pixel resolution. Accordingly, the 2400-PGE minimizes noise and maximizes image quality by leveraging the SONY IMX174's deep pixel wells with low noise architecture, all while maintaining a 60 db dynamic range. Users can also use multiple Regions of Interest (ROI) to window the output to smaller sizes for increased frame rates or to take advantage of smaller lens formats than the camera's full 1/1.2" C-mount format. To increase pixel sensitivity, monochrome models are equipped with a binning function (1x2, 2x1, 2x2) .

With its striking design and imaging power, JAI's GO 2400-PGE has a fantastic price to performance ratio. As such, this area scan camera is ideal for medical and scientific fields, as well as applications in robotics and high-precision inspection.