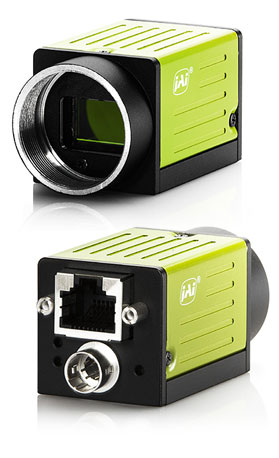 The newly-released JAI GO 2400 PMCL camera represents a stunning leap forward in imaging. The series is already known for some of the most reliable low-noise industrial cameras around, but JAI's latest iteration stands out in an already impressive lineup.
Boasts outstanding sensitivity with 2.35 megapixel SONY CMOS IMX174 imager.
High dynamic range.
Lowest noise .
8/10/12-bit output in monochrome or raw Bayer color
Shutter speeds up to 165 frames per second,
Automatic Level Control (ALC) technology makes it easier to work in variable lighting.
Attractive price.
Thanks in part to ALC and C-mount compatibility, JAI GO can be deployed in a much wider range of applications than the average industrial camera. With flexible ROI capabilities, users can window the output to smaller sizes for increased frame rates and to take advantage of lens formats that are smaller than the camera's full 1/1.2" C-mount format.

Sony Pregius IMX174 Sensors Make the JAI GO a Special Treat for Power Users

The Sony Pregius IMX174 CMOS imager makes a big difference in JAI GO line's performance. Sony's IMX line is rapidly becoming the favored sensor technology for equipment manufacturers, and users can quickly see why.

The IMX174 delivers exceptional image quality, with high dynamic range and the lowest noise to enhance color depth and crispness. It has a native FPS capability of up to 165.5 (up to 48.8 fps at full 1936 x 1216 resolution) thanks to its dual-channel PMCL interface. Its small footprint and light profile enhance its versatility.

In addition to executing sensitive industrial inspections quickly, the JAI GO 2400-PMCL camera can also be used for outdoor photography or in reduced lighting environments.