The compact, large format JAI GO-5000 USB3 Vision camera fuses remarkably high resolutions and frame rates. Industry leader JAI clearly knows that "hasty speed doesn't succeed," as this feature-rich camera provides high-speed imaging without sacrificing quality or affordability.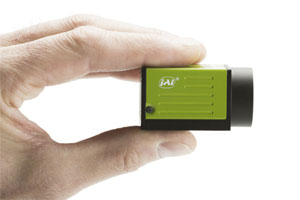 Carefully Designed

The GO-5000 is designed to adapt to individual applications, beginning with a compact size of 29 x 29 x 41.5 millimeters and a weight of only 46 grams. With color and monochrome models, as well as 8, 10, or 12-bit output via a USB3 Vision interface, users have many options, not to mention that power can be routed through that interface or a 6-pin connector. This camera also includes a 5-megapixel CMOS imager with global shutter that enables up to 62 frames per second at full resolution (2560x2048).

Innovatively Feature-Rich

The JAI GO-5000 USB3 Vision camera enhances performance with 4-channel analog gain for reduced noise on color models and up to 4x4 binning for increased sensitivity on monochrome models. The Go-5000 also enhances noise, gain, and shutter management through automatic level control (ALC). Other capabilities include in-camera CMOS pattern correction, a 60 dB linear dynamic range in HDR mode, and, with the camera's combination of 5 µm² pixels and versatile ROI (region of interest), it is easily configured to requirements for resolution, speed, and optical formats.

With high resolution imaging and compact design, the GO-5000 is ideal for repetitive camera movement in tight spaces, especially applications in robotics and unmanned vehicles. However you use it, JAI's flexible GO-5000 USB3 camera is designed for speedy success.