High frame rates and image quality in a compact design that is priced right are what make the JAI's Go-5000C-PGE color camera a desirable option for agricultural automation applications.

Big Image Quality, Small Profile

This entry-level camera provides high frame rates through the combination of its large format 5 Megapixel CMOS imager and global shutter. The latter increases the range of light for capturing and allows full functionality in both bright and low light.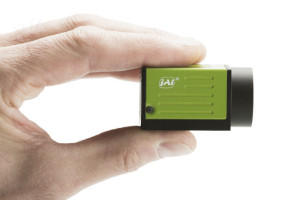 In addition, the Go-5000C relies upon automatic level control (ACL) for dynamic conditions, including both analog and digital gain control in low-light environments. Altogether, these features enable JAI's camera to attain full MP resolution of 2560 x 2048 and frame rates from a standard 22 frames per second to 150 fps in low-resolution VGA mode. These innovative features come in a compact and easy-to-use C-mount package with convenient Power Over Ethernet (PoE) and a GigE interface that enables high-speed data transfer.
The JAI Go-5000C-PGE's combination of high image quality and low-profile, low-cost performance make it ideal for automated agricultural inspection and sorting.

The last camera we'll look at in our Industrial Cameras for Agricultural Automation series is the fast and effective new CIS VCC-FC20V49CL/PCL High Speed Color Area Scan Camera.