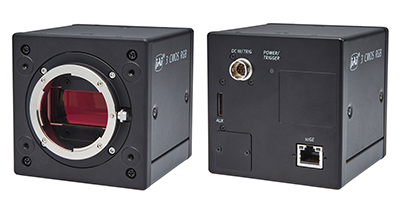 The new JAI SW-4000T-10GE is the world's first color 10GBASE-T GigE 3-CMOS camera. It combines advanced line scan technology with an interface that can perform fast data transfer over distances up to 100 meters. The JAI SW-4000T-10GE also provides extraordinary versatility with backward compatibility and the world's fastest prism-based color line scan camera.
Features of the JAI SW-4000T-10GE CMOS Camera
The JAI SW-4000T-10GE features 3 CMOS camera sensors, each with 4096-pixel resolution. The 10GBASE-T interface provides an RGB maximum output of 97 KHz. YUV data can be output at rates up to 145 KHz.
Built-in auto-negotiation technology provides backward compatibility for the slower N-BASE-T (5 Gbit/s and 2.5 Gbit/s) and 1000BASE-T (1Gbit/s) standards. The flexibility allows this CMOS camera to be used in a large range of industrial line scan applications from the slowest to the fastest speeds.
JAI SW-4000T-10GE Inspection Advantages
Since the JAI SW-4000T-10GE is a prism CMOS camera, it has advantages over single sensor trilinear cameras. Its precise sensor alignment offers no color "halo" effects. The single optical axis provides pixel-to-pixel accuracy and the same magnification for each sensor. If needed, the camera can be positioned off-axis without any problems associated with spatial alignment.
Ultra-high-speed scan inspection puts high demands on light collection efficiency. Besides the better light transmittance of prism-based cameras, the JAI SW-4000T-10GE's 4-line structure on each sensor opens up more binning combinations.
Each CMOS camera sensor has two lines with 7.5 x 7.5 µm pixels for fast responsivity and two lines with 7.5 x 10.5 µm pixels to provide better dynamic range and SNR characteristics. This lets the line scan camera accommodate an extensive range of lighting conditions and inspection speeds.
The JAI SW-4000T-10GE CMOS camera has built-in color space conversion. The camera can output to sRGB, Adobe RGB, HIS, or CIE XYZ. This can help simplify application development and reduces host processing. The camera also lets users program their own custom RGB conversions if needed.
JAI SW-4000T-10GE Applications
Thanks to its cutting-edge technology, the JAI SW-4000T-10GE CMOS camera is suitable for a wide range of industrial line scan applications, including the following:
Print and currency inspection
3D inspection of bottles, cans, or other cylindrical items
Food and vegetable sorting/inspection
Textile inspection
Steel inspection
Glass inspection
Paper/foil inspection
With a 10GBASE-T (10Gbit/s) interface, the JAI SW-4000T-10GE CMOS Camera is leading the way in terms of industrial inspection. Request a quote from Phase 1.