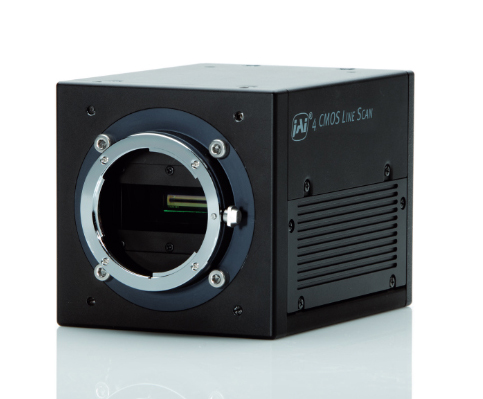 The JAI Sweep+ camera series is a powerful and diverse family of color and NIR line scan cameras. With frame speeds as high as 70 kHz, flexible mount options, and Camera Link interfaces, the JAI Sweep+ camera series are equipped to meet the needs of a wide range of high speed applications.
Each JAI Sweep+ camera features Flat Field Correction (FFC) and gamma correction, making them ideal for applications such as high speed industrial inspection, measurement and quality control applications.
Popular JAI Sweep+ Cameras for High Speed Applications
As an introduction to the JAI Sweep+ camera series, here are a few of the most popular JAI Sweep+ cameras being used across the industrial sector today.
JAI CV-L107CL Camera
This camera operates with 40 MHz pixel frequency, resulting in a scan rate of 19 kHz, making it a great option for print verification, surface quality inspection, and food/fruit sorting applications, along with other similar applications. The JAI CV-L107CL camera features two point flat-field correction, shading correction, several trigger modes, and individual exposure on R, B, and G channels.
JAI LQ-050CL Camera
The JAI LQ-050CL camera is a 4CCD line scan camera using four 512-pixel line sensors, mounted on a prism, for the R, G, B, and NIR channels. This camera has flexible mounting options and a maximum line rate of 70,922 lines per second, making it perfect for inspection of fruits and vegetables, circuit boards and electronic/mechanical parts.
JAI SW-8000M-PMCL Camera
The JAI SW-8000M-PMCL Camera is an 8192 pixel monochrome line scan camera featuring an 8K custom-designed CMOS line sensor. Scan rates reach 100 kHz, making it one of the fastest cameras on the market. This camera is perfect for web inspection, print inspection, document scanning, parcel/postal sorting, electronic/wafer inspection and sports imaging finish line applications.
The JAI Sweep+ camera series is diverse, serving a wide range of high-speed inspection and imaging applications across the industrial sector. There are many different cameras in the JAI Sweep+ series, but the three mentioned above are some of the most popular.
To learn more about these cameras, view more of the JAI Sweep+ Camera Series from Phase 1 Technology.