For you adults out there who still like to play with blocks, or at least block cameras, Sony's latest camera may be the way to go. The FCB-EH3150 is the newest addition to a line of Sony's high definition cameras and offers you some seriously impressive features.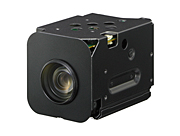 Not only is the camera smaller than the rest of the FCB family, but it has a wide dynamic range and a 12x optical zoom. This camera provides great resolution with a 1280 x 720 sensor and has a Digital Noise Reduction (DNR) feature. It is also perfect for applications where color enhancement is necessary thanks to a variety of options. These options give you the ability to read text and pictures on an image more clearly which makes it perfect for low vision applications and intelligent traffic systems.
As an example, pretend you're at a four corner intersection alongside a major freeway. Then, imagine if you will that the camera controlling the flow of traffic along these roads begins to see the flow of cars poorly during dusk and dawn. Considering the fact that the camera is what's essentially controlling how long a traffic light stays green, lighting can become an issue. Specifically during the times of day like dusk and dawn where there is typically low light, having a camera like the FCB-EH3150 that can function in these conditions can be beneficial.

See, who says you can't work and play?
Do you have any questions? Wondering if this camera would work for your application? Please feel free to contact us by e-mail at info@phase1tech.com or via telephone: (888) 732-9880