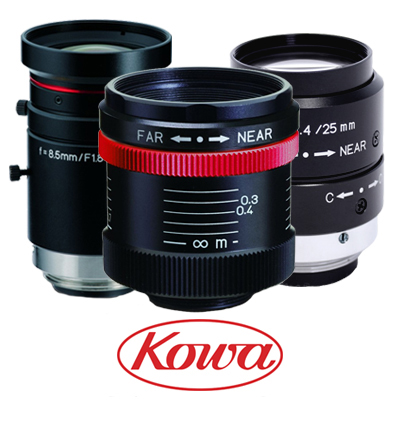 Kowa has a long history of producing high quality lenses for use in machine vision systems for industrial and factory automation applications, including inspection applications. The Kowa LM6HC lens series continues Kowa's legacy of high performance industrial lenses.
The 1" LM6HC lens series features strong resolutions and can be used in smaller format cameras for superior image quality. There are many different benefits that come with choosing these Kowa lenses for your industrial automation application.
Benefits of Using a Kowa LM6HC Lens
The Kowa LM6HC lens series is built for use in smaller format, 1" megapixel cameras. Its compact design assists megapixel cameras in producing large, high-resolution images. The unique Kowa lens design leads to low levels of distortion, producing accurate representations of the imaging environment.
This high performance lens consistently delivers excellent light transmission. In fact, there's no fading along the edges of images at all – these Kowa lenses feature very high levels of corner brightness for crisp, clear images.
Kowa LM6HC Technical Specifications
The Kowa LM6HC lens series is suitable for a wide range of applications – reflecting this is a C-mount design for versatility and integration into many different kinds of machine vision systems. These lenses feature a 4 Megapixel resolution, with apertures between 1.4 and 1.6.
The LM6HC wide-angle Kowa lenses have a fixed focal length of 6mm and a working distance of 100mm. The manual iris has a range or F-Stop F1.8 – 16. As a versatile lens series, they can withstand temperatures as low as -10oC and as high as 50oC.
The Kowa LM6HC lens series is one of Kowa's most versatile and reliable lens offerings. With high resolutions for smaller format cameras, these lenses enable high performance imaging in a wide range of applications.
For industrial and factory automation applications, a Kowa LM6HC lens may be a wise consideration if image quality, excellent light transmission and low distortion are top concerns.
Get a deeper dive on these lenses by reading about Kowa LM6HC lenses from Phase 1 Technology.