Until recently, the efficiency and productivity of robot labor was limited by one major factor: Safety. Robots were cordoned off from the human workforce with safety cages, pending machine vision advancements that would let them be truly collaborative.

Collaborative robots are growing greater interest, particularly with the advent of KUKA's "Intelligent Industrial Work Assistant."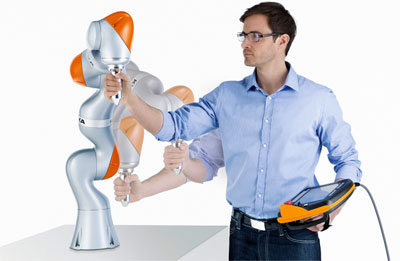 Collaborative Robots Take a Leap Forward With the IIWA

KUKA LBR set out to develop a lightweight robot capable of human interaction without cumbersome safeguards. Thanks to fully-networked IT capabilities, IIWA can process and integrate visual data suitable for precise factory floor activities.

The Intelligent Industrial Work Assistant acts within a large-scale automated system for series-manufactured injection moldings. Moldings can be individualized on the production line, integrating the customer's specific requirements using a connection to a tablet PC.

For example, personalized lettering can be added to the handles of scissors and other supplies by saving customization data to a chip card that's input into the injection molding control system. As the products are manufactured, each one is laser-marked with its own data matrix code.

This is where the IIWA jumps in, removing one product at a time from the conveyor belt of the injection molding cell. In communication with other systems throughout the facility, IIWA processes integrated data in order to apply the lettering.

All this is achieved with the aid of responsive sensor technology that allows the robot to work alongside humans with no safezone. It easily handles even the most sensitive products, so skilled workers can pass workpieces directly to the robot.

Thanks to machine vision, factories may soon enjoy greater than ever efficiency using collaborative robots who work safely and effectively with their human counterparts.