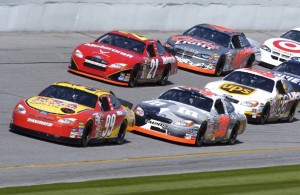 Many of the folks who tune into NASCAR, IndyCar and Formula One races probably don't give much thought to the source of the in-cabin, rear-view and driver-vision footage that makes these events so exciting. Thanks to dramatic improvements in machine vision camera technology, millions of racing enthusiasts are able to feel as if they're riding along with their favorite drivers without ever getting off the couch.
Machine vision cameras have been a fixture in live-broadcast racing events since the early 1980s. Back then, these devices simply transmitted grainy video feeds that showed either a close-up of the driver's face during harrowing maneuvers or side-mounted views of approaching or receding cars. Since many racing vehicles weren't equipped with these devices, viewers had a limited range of views to enjoy. Still, the additional perspective that industrial vision cameras brought to the table marked a significant milestone in the development of televised stock-car racing. Prior to their introduction, viewers had to content themselves with boring aerial views and confusing grandstand cameras that couldn't adjust quickly enough to follow the action on the track.

In recent years, driver-view and car-mounted cameras have become ubiquitous at major racing events. With the advent of robotic vision cameras that can automatically adjust themselves in a matter of microseconds, it has become possible to make a multimedia recording of every daring maneuver that occurs during a typical race. Even the inevitable crashes that drivers and attendees anticipate and fear can be enjoyed and analyzed from multiple points of view. It's important to note that these devices are significantly more durable than the typical consumer-friendly video camera. They might not be able to survive a direct impact in a high-speed crash, but they can certainly handle high-impact bumps and bruises that would devastate lesser devices.

Meanwhile, ever-improving economies of scale have ensured that virtually every driver who wishes to look into a driver-view camera during races can do so. As technology has improved, the lenses, mounts and cables that make these devices so dependable have become cheaper and more plentiful. What's more, these devices pay for themselves by encouraging racing enthusiasts to travel thousands of miles to attend big events. The enormous visual display boards at national-circuit tracks ensure that attendees see close-up shots of their favorite drivers in action.

Those who can't attend are able to watch on Fox, ESPN and other racing-friendly television networks. Of course, it takes quite a bit of work to convey the real-time images that machine vision cameras capture into the homes of racing enthusiasts across the United States. Indeed, the breakneck growth in the prevalence of industrial vision cameras in stock-car racing has been driven by the vertically-integrated distributors of these devices. These outfits sell everything from lenses and caps to the digital link cables that transmit video from the cameras that record it to the end-users who consume it.

It makes sense that the networks that use machine vision cameras for use at racing events would prefer to purchase their accessories and linking equipment from the same companies that supply their high-performance recording devices. After all, their audiences depend on them to navigate the most punishing conditions in the sporting world to provide a seamless viewing experience.