Machine vision lighting is a critical aspect of machine vision inspection and measurement systems. Effective use of lighting works to enhance key feature contrasts within the target objects while minimizing contrasts along the periphery in order ensure accurate capture of the required data. With the right lighting, images generally require less time to process, typically enhancing the efficiency of the process and the quality of the data captured.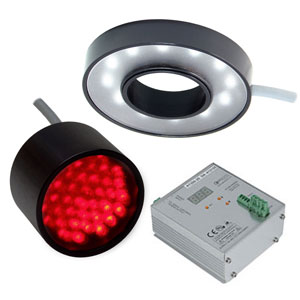 Integrating lighting into your machine vision system is as much an art form as it is a science. The first requirements are:
an understanding of illumination (geometry, wavelength, pattern, and filters)
an analysis of the environment (natural/artificial lighting, space constraints/requirements, etc)
an understanding of the quantum efficiency and spectral range of your system's cameras
an understanding of the available machine vision lighting sources and their applications
Selecting the right lighting sources and creatively applying illumination techniques is where the art comes in.

Machine vision lighting comes in several different varieties, such as back lights, spot lights, ring lights, diffuselites (diffuse illuminators), axial diffuse illuminators, line lights, and linear arrays. Many of these are LEDs (light emitting diodes) because of the cost and energy savings, quality and flexibility they offer. Depending on the application, lighting controllers may be used to enable operators to control the frequency, intensity, duration and other characteristics of illumination to ensure optimal performance. In addition to configuring controllers for precision, they can be integrated into multi-camera inspection systems and used for high speed inspection applications.

Determining the right machine vision lighting is all about understanding what's possible within the image capture environment. If you're designing or upgrading your inspection system and need help selecting the right lighting or controllers, call Phase 1 Technology (888) 732-9880.