Baumer's latest line scan GigE cameras in its VisiLine Series integrate Sony's state-of-the-art global shutter IMX174 and IMX249 CMOS sensors for outstanding image quality. In building upon the TX series' success, the new VLG-23 and VLG-24 color and monochrome line scan GigE models illustrate the words of polio vaccine creator Jonas Salk, who noted "the greatest reward for doing is the opportunity to do more." Pushing imaging quality, speed, and functionality to new heights, Baumer's new VisiLine GigE camera models definitely deliver the opportunity to do more.

Visionary Imaging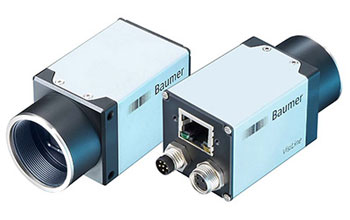 The Baumer VLG-23 and VLG-24 monochrome and color models feature Sony's leading edge 1/1.2" progressive scan IMX174 and IMX249 global shutter CMOS sensors respectively. The VLG-23 delivers full frame 1920 x 1200 pixels up to 53 fps, with the VLG-24 delivering up to 38 fps, and 5.86 × 5.86 µm pixel size. With a high dynamic range of more than 70 dB, an extraordinary signal-to-noise ratio, and very high sensitivity, these cameras are ideal for applications that require stable image especially in low light environments.

Innovative Simplicity

VisiLine cameras rely offer a rich feature set, including color comparison, FPN correction, and greater analysis efficiency through HDR for some models. At the same time, storable user sets enable easy integration of each VisiLine GigE camera, even as individual models maintain high sensitivity and simplicity in processing solutions.

Baumer's robust VLG-23 and VLG-24 line scan cameras deliver excellent price performance alongside overall high sensitivity, speed, and quality. In rising to such heights, these VisiLine GigE camera models are poised to revolutionize robotics, energy industries, inspection, and similar applications by delivering the opportunity to do more.