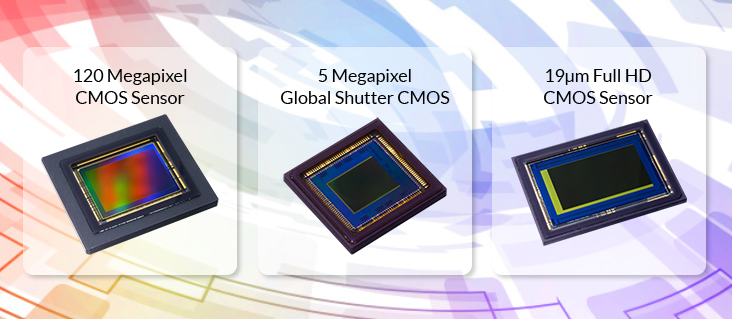 Canon, a world-renowned manufacturer of cameras and imaging equipment, is now offering imaging sensors for industrial applications in the U.S. for the first time. These high-performance sensors span a wide range of resolutions and imaging capabilities. Each, however, features pixel-level innovations that make them some of the highest quality sensors on the industrial market.
For now, there are three sensors available for integration into vision and imaging systems: a 120 Megapixel CMOS sensor, a 5 Megapixel Global Shutter CMOS sensor, and a 19 µm Full HD CMOS sensor. Each sensor has its own unique performance attributes and relevant applications.
Canon Sensor for Industrial Applications Now Available in the U.S.
120 Megapixel CMOS Sensor
This ultra-high resolution CMOS sensor has 13280 x 9184 effective pixels, which is approximately 60x the resolution of full HD, and is used in applications where the highest imaging performance is required. These high resolutions are made possible through parallel signal processing, which reads signals at high speeds from multiple pixels. The sensor achieves frame rates of 9.4 frames per second through 28 digital signal output channels, and is available in color or in monochrome with twice the sensitivity.
5 Megapixel Global Shutter CMOS Sensor
Canon's new 5 Megapixel CMOS sensor features innovative global shutter technology to facilitate high-speed vision and imaging. A new pixel design, including new drive readout and light guiding technologies, expand the full well capacity to reduce noise and increase dynamic range. This 2/3" sensor is capable of achieving progressive pixel reading at 120 frames per second.
19 µm Full HD CMOS Sensor
The new 35MMFHDXS CMOS sensor from Canon is built for high sensitivity, low-noise performance in low-light environments. Like the other sensors, Canon has introduced innovations at the pixel level in this sensor to reduce noise for large pixel sizes of 19 µm x 19 µm. This CMOS sensor is available in RGB or monochrome versions.
Canon's new line of industrial sensors all feature pixel-level innovations for high-performance imaging, setting them apart from other industrial sensors at a similar price range.
While Canon has just started to introduce these CMOS sensors in the U.S., they are quickly making their way into a diverse range of applications and gaining widespread favor in the industrial sector.
To get a deeper dive on these industrial sensors, read on about Canon industrial imaging sensors from Phase 1 Technology.