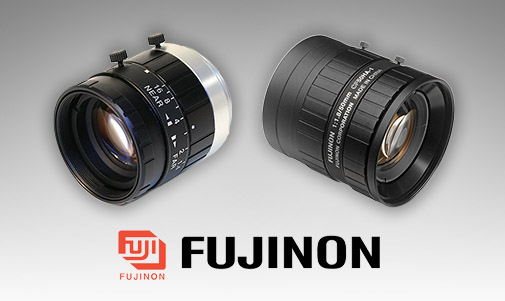 Fujifilm, the maker of Fujinon lenses, has been innovating lens technology since the early 1940s. The company's most recent addition to its high-performance industrial lenses for machine vision applications is Fujinon's CF-ZA-1S series of cost-conscious C-mount lenses.
Committed to meeting their customers' diverse needs for machine vision applications, Fujinon's C Mount machine vision lenses offer a number of focal lengths to allow for narrow and wide angle view. Delivering high-precision images, lenses are available for a variety of machine vision applications.
Ideal for product inspection and measurement on production lines, the lenses are compatible with large sensors with a high pixel count of 1.1-inch?2.5µm pixel pitch (equivalent to 23 megapixels). In addition, Fujinon's C Mount series is also suitable for measuring and inspecting electronic components, precision instruments and presswork, and large-sized products such as LCD displays and organic EL displays.
Basic Specifications of the C Mount Lens Series
2.5μm mega-pixel for ultrahigh resolution
Supports 1.1-inch sensor in maximum
Available in six models of 8, 12, 16, 25, 35, and 50mm
Fujinon's Machine Vision Lens CF-ZA-1S Series Features:
HRI (high relative illumination) optical design at 90% at f/4
Anti-shock and vibration
4D high-resolution for a smooth image quality
Compact and user-friendly mechanical design
Very low distortion
Minimal vignetting
Short minimum working distance
Screw locks
Compact construction
Maintaining Precision Image Quality in Harsh Environments
Fujinon's high relative illumination, when the aperture is set to F4, is maintained at over 90%. This ensures that the lens produces clear and uncompromised image quality from the center to the peripheral area, allowing the light to spread throughout the sensor without a dead angle and removing the need for light intensity compensation.
To reduce vibration and ensure impact resistance, Fujinon's C Mount series is manufactured with high-precision machining to maintain firmness of the lens. Featuring the world's smallest machine vision lens with an external diameter of 39mm - specifically for use in a machine vision camera compatible with 1.1-inch high sensitivity image sensors with a pixel pitch below 3.0µm - Fujinon's CF-ZA-1S Series delivers high-quality, anti-shock and vibration performance, making the C Mount series perfect for implementation in a wide range of harsh manufacturing environments.
To learn more about Fujinon's CF-ZA-1S Series anti-shock/vibration ruggedized lenses, visit Phase1Vision.com.
If you need help selecting the right machine vision lens for your application, speak with the product experts at Phase 1 Technology.