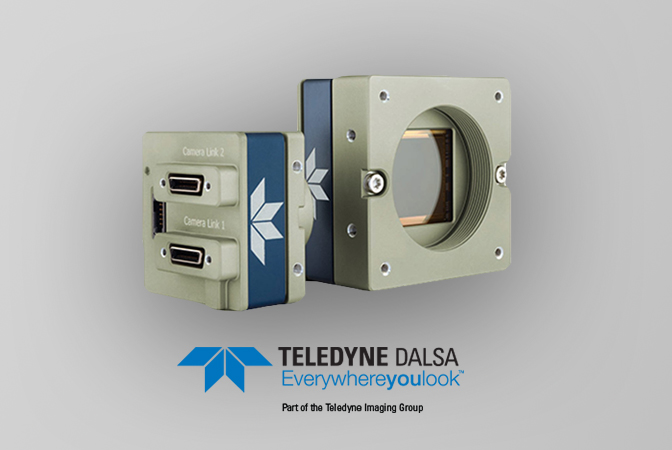 Featuring the latest high-performance CMOS sensors from Sony and On-Semi, the Genie Nano-CL (Camera Link) series of compact area scan CMOS cameras allows you to leverage your existing set-up to achieve higher frame rates, higher resolution, and overall higher performance and quality.
With an un-matched feature set and usability in a wide range of operating temperature, the Nano-CL 2450 CMOS camera leverages the capabilities of the Camera Link Deca Mode standard to enable enhanced bandwidth beyond the limits of the Camera Link interface specification. In full Deca mode, the configuration increases the video bandwidth up to 80-bits, which can transfer data at 6.8 gigabits per second.
The Nano-CL series requires a frame-grabber to acquire images. The great news is you can use your existing Dalsa frame-grabber, or any third-party frame-grabber you're thinking of purchasing for your system upgrade. Because the Genie Nano-CL is GenCP compliant, its features can be accessed using software that supports the GenCP protocol. Dalsa offers two versions of its SDK: The first version (Sapera LT) is a free image acquisition and control software development toolkit (SDK) for Teledyne DALSA'S 2D/3D cameras and frame grabbers. The second is (Sapera Processing) which is at the heart of Sapera Vision Software delivering a suite of image processing and analysis functions.
Ideal for a wide variety of industrial applications, Dalsa' Genie Nano-CL available models offer:
Color and Monochrome
Resolutions ranging from 5 MP to 25 MP
Pixel Sizes 3.45 µm to 4.5 µm
Frame rates up to 141 fps
Higher frame rates achieved in partial scan mode
Global Shutter with exposure control
Multi-ROI feature
Wide temperature range
PoCL (Power over Camera Link) or 10-30 VDC
GenCP compliant for 3rd-party plug-and-play compatibility
Typical vision applications include:
Semiconductor wafer inspection (surface and bump inspection)
Electronics manufacturing (3D solder paste inspection; package and bump inspection; AOI (automated optical inspection))
Solar Panel inspection
Aerial imaging
General machine vision
Intelligent Traffic Systems
Dalsa has announced that a new model based on the Sony IMX250 is in production – the Genie Nano-CL 2450. This new monochrome model uses Camera Link Deca Mode 8-bit-10Tap Firmware. It delivers 2464 x 2056 (5.1M pixels) resolution and a maximum framerate output of 141 fps.
If you're interested in the Dalsa Genie Nano-CL CMOS camera for your application, visit Phase1Vision.com. You'll learn about available products and be able to reach out to Phase 1 Technology's product experts for guidance and pricing information.