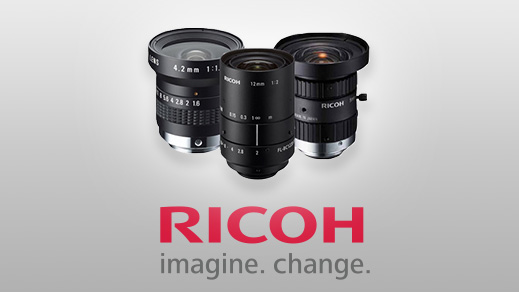 World-renowned for their superior performance and uncompromised image quality, Ricoh's series of F Mount lenses for machine vision line scan applications offer precision, high-performance imaging quality for a wide range of high-definition industrial inspection applications. Featuring state of the art interchangeable lens systems and medium formats, Ricoh has recently introduced two new members to their F Mount series family of lenses.
What Ricoh's F Mount Series Offers
The F Mount series was developed for applications such as high-definition inspection of steel, fiber/textile, pulp, film, print, web appearance testing equipment, and other flat materials. The performance delivers even, high-definition optical imaging across the entire image, as well as the periphery. Optimized for FA close-up shooting, this series of lenses can be used with sensors up to 45mm.
Series Features and Capabilities Include:
High contrast
High resolution
Minimal distortion
Pentax K-mount availability
Compatible with sensors up to 45mm
Lockable focus and iris rings
Abundant light distribution
Optimized for FA close-up shooting
High-definition image characteristics
The New F Mount Lenses
The two new lenses are the Ricoh/Pentax FL-YFL3528 and Ricoh/Pentax FL-YFL5028. The principal difference between the two lenses is focal length. The FL-YFL3528 has a focal length of 50 mm, allowing for a significantly narrower angle of view. The FL-YFL5028 has a focal length of 35 mm, accommodating the need for a wider angle of view in line scan inspection applications.
Ricoh's new F Mount lenses expand possibilities for precision, high-performance line scan machine vision inspection applications.